World news story
Innovating for Success
Up to £4.26 million should be available for running a commercialisation and entrepreneurship training Leaders in Innovation Fellowships programme.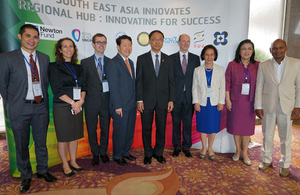 The Leaders in Innovation Programme is training researchers on how to take their innovations to market. South East Asia Innovates brings together researchers from South East Asia who have participated in the Leaders in Innovation Programme to build their networks, refine their skills, and build links with other innovation actors.
As part of the UK Government's Newton Fund, the UK's Royal Academy of Engineering is running a commercialisation and entrepreneurship training programme known as the Leaders in Innovation Fellowships (LIF).
Under this programme, researchers in emerging economies who want to commercialise their innovations are trained in the skills they need to take their ideas from the workbench to the market . At least £2.13 million of the UK funding could be available for this work with Southeast Asia, with matched resources coming from partners in the Philippines, Thailand and Vietnam.
Over the past two years, 90 researchers from these three partner countries have been trained. As a next step, the first Regional Hub conference for Fellows (trainees) from the first two years of the programme in Southeast Asia will be held in Bangkok. This event is hosted by the National Science and Technology Development Agency (NSTDA) and Thailand Research Fund (TRF), working in collaboration with the innovation agencies from the Philippines (Department of Science and Technology) and Vietnam (National Agency for Technology Entrepreneurship and Commercialisation Development).
The Regional Hub conference will help build bridges amongst the LIF Fellows and the specially selected innovation actors from across the region, as well as from the UK. It will promote the most promising innovations through a series of peer to peer sessions which allow the exchange of knowledge between all delegates in the room.
Paul Bute, British Chargé d' Affaires said:
We recognise that advances in science and innovation will help us find solutions to the global challenges we face. Working in partnership to build skills in innovation and move toward to commercialization could make a difference to the most vulnerable in our societies, working in fields as diverse as agritech, life sciences, health, the environment, biotech, engineering and IT.
Dr. Pichet Durongkaveroj, Minister of Science and Technology said:
The conference provides a good opportunity to promote the most promising innovations as well as create international networks of innovators and technology entrepreneurs. This could one of activities that accelerate Thailand to move towards innovative economy targeted in the 12th Thailand National Economic and Social Development Plan.
The Newton Fund is part of the UK's Official Development Assistance (ODA), and was launched in 2014. By 2021, the UK will have made a total investment of £735M, with partner countries providing matched resources. The Newton Fund aims to promote the economic development and social welfare of partner countries. This is achieved through strengthening partner country science and innovation capacity and unlocking further funding to support this work. Under the Newton Fund, the UK has been able to develop extensive science and innovation cooperation with countries in Southeast Asia, including Thailand, Vietnam and the Philippines.
Further information
Follow British Ambassador Brian Davidson on twitter @bridavidson
Published 8 July 2016