News story
Innovate day 2: helping UK businesses to succeed and grow
More than 3,000 from high-growth innovative businesses, the investment community, academia and government gather for Innovate 2015 event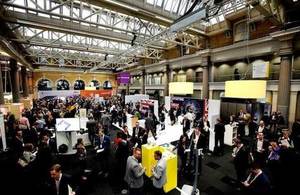 Delegates are gathering for the second day of Innovate 2015 – a global showcase for the best in UK innovation.
Today's events focus on the innovation capabilities of the UK and the regional funding and support opportunities available to help businesses succeed and grow.
Why is Innovate 2015 good for business?
Among the speakers are Phil Smith, chief executive of Cisco UK & Ireland and chair of Innovate UK's governing board, and Sumit Paul-Choudury, editor of New Scientist.
Today's events include the launch of a new roadmap for non-animal technologies in the UK. Events are brought to a climax with the presentation of the annual Knowledge Transfer Partnership awards for the best UK partnerships.
Shadow Robot recommends Innovate 2015
Today's events on the main stage
9.00am Phil Smith, chief executive of Cisco UK & Ireland and chair of the Innovate UK governing board on the need to think strategically if the UK is to compete in the long term
9.25am Sumit Paul-Choudury, editor of New Scientist, on some of the technology trends that could affect our lives over the next 15 years
10.00 a panel discussion on how design can improve innovation processes and deliver a return on investment
11.00 a panel made up of partners in the pioneering Evoque_E collaboration to develop hybrid and electric vehicles based on Range Rover models discuss the challenges and benefits of partnership
12.45pm a panel of UK thought leaders discuss the benefits and opportunities for business in harnessing the UK's research powerhouse
2.10pm peer to peer and design innovation awards
4pm Knowledge Transfer Partnership annual awards
Live stream of the main stage.
The number 1 networking event
Many small and medium-sized British companies at the cutting edge of innovation are exhibiting alongside universities, funding and support bodies such as Innovate UK, the Catapults, and the Business Growth Service, and private investors.
Smaller themed meetings and events are taking place away from the main stage, and there are formal and informal networking opportunities for delegates, including the opportunity for one-to-one meetings with investors.
Delegate Rich Walker, of Shadow Robot, said:
Innovate is the number 1 networking event for the UK technology and innovation community.
View the full agenda for day 2 of Innovate 2015.
Day 1 at Innovate 2015
Among the keynote speakers on day 1 of Innovate 2015 was Sajid Javid MP, Secretary of State for Business, Innovation and Skills, who announced a new national panel of innovation expertise and a regional review of the UK's science capabilities.
Also speaking yesterday were Nicola Mendelsohn, Facebook vice-president for Europe, Middle East and Africa; global innovation leader Dr Dave Richards; Cobra Beer founder Lord Bilimoria; and bio-bean founder Arthur Kay.
Nicola Mendelsohn excited to be at Innovate 2015
More than 3,000 delegates from high-growth innovative businesses, the investment community, academia and government have attended the event.
Innovate 2015 is hosted by Innovate UK and UK Trade & Investment at Old Billingsgate, central London. Businesses attending can find out about the wide range of research expertise and government support available to help them to deliver new products and services and to expand both at home and abroad.
Published 10 November 2015