Press release
Business Secretary sharpens the UK's innovation expertise with regional research and development audit
Business Secretary announces a new national panel of innovation expertise and a regional review of the UK's science capabilities.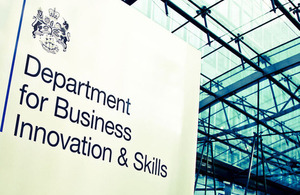 Business Secretary Sajid Javid today (9 November 2015) announced a new national panel of innovation expertise and a regional review of the UK's science capabilities to help make Britain the best place in Europe to innovate.
Speaking at Innovate UK's annual conference, Mr Javid celebrated the UK's position as a global innovation leader – attracting as much overseas investment in research and development activity as Canada, Finland, Japan, China, Russia and Denmark combined.
He also revealed how a national panel of expertise to help direct funding and improve the outcome of public investment would secure the UK's leading position, and invited applications from organisations up and down the country to conduct Science and Innovation Audits for their region.
Business Secretary Sajid Javid said:
The UK is embracing new technologies and leading the world in innovation, but we must not be complacent and must look to the long term future of research and development to support our jobs and industries.

As a one nation government we want every region of the UK to maximise opportunity for its local people through its innovation strengths, and the new Science and Innovation Audits will ensure that public investment is doing just that. By taking stock of our assets and supporting best practice and expertise, we will propel the UK to the forefront of the global innovation race.
The Science and Innovation Audits will help local organisations map their research and innovation strengths and identify areas of potential global competitive advantage. These audits will provide an evidence base for decision making on local innovation priorities, help strengthen future bids for local investment, and foster collaboration between universities, local businesses and other regional organisations.
Mr Javid also announced the creation of a new independent Smart Specialisation hub that will bring together the country's leading experts, businesses, universities, investors and Catapults to share best practice in innovation and help access national and international investment.
By identifying local needs these new bodies will ensure no part of the country is left behind and that funding is directed where it has the best impact on people's lives.
These new steps will build on the government's commitment to real-terms investment of almost £7 billion in science capital up to 2021 and the work of Innovate UK, which has already helped more than 5,000 companies unlock new potential.
Notes to editors
Science and Innovation Audit
Each interested consortium should complete one expression of interest form, detailing their consortium's composition, area of focus, geographical composition, resourcing and interactions with Smart Specialisation strategies.
Smart Specialisation Hub
The Smart Specialisation Hub project will be receiving up to £480,000 of funding from the England European Regional Development Fund as part of the European Structural and Investment Funds Growth Programme 2014 to 2020. The Department for Communities and Local Government (and in London the intermediate body Greater London Authority) is the Managing Authority for European Regional Development Fund. Established by the European Union, the European Regional Development Fund helps local areas stimulate their economic development by investing in projects which will support innovation, businesses, create jobs and local community regenerations.
Published 9 November 2015