Injured troops take to the ice
An ice sledge hockey squad made up of injured Service personnel took to the rink yesterday following a year's worth of preparation to get them ready to compete in the national ice sledge hockey league.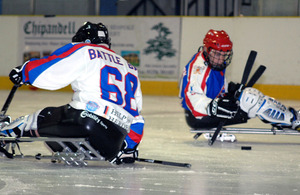 The Battle Back Bisons have received sponsorship from the Worshipful Company of Wheelwrights and Help for Heroes to provide specialist equipment for the squad members. Players sit in adapted sledges, propelling themselves with adapted sticks in a manner similar to skiing.
Sledge hockey is a variant of ice hockey and can be played on and off ice, using sledges to allow participants to move around the rink at high speeds, hitting a puck which travels at speeds of up to 100kph.
The team's home will be the Planet Ice Arena in Basingstoke and the squad will be open to all injured Service personnel who express an interest in taking part.
Four players in the team - Lance Corporal Martyn Compton, Marine Lee Coupe, Royal Navy Chief Petty Officer Steve Brown and Lieutenant Alex Brown - have recently competed at a national level during the 2011 European Championships in Sweden.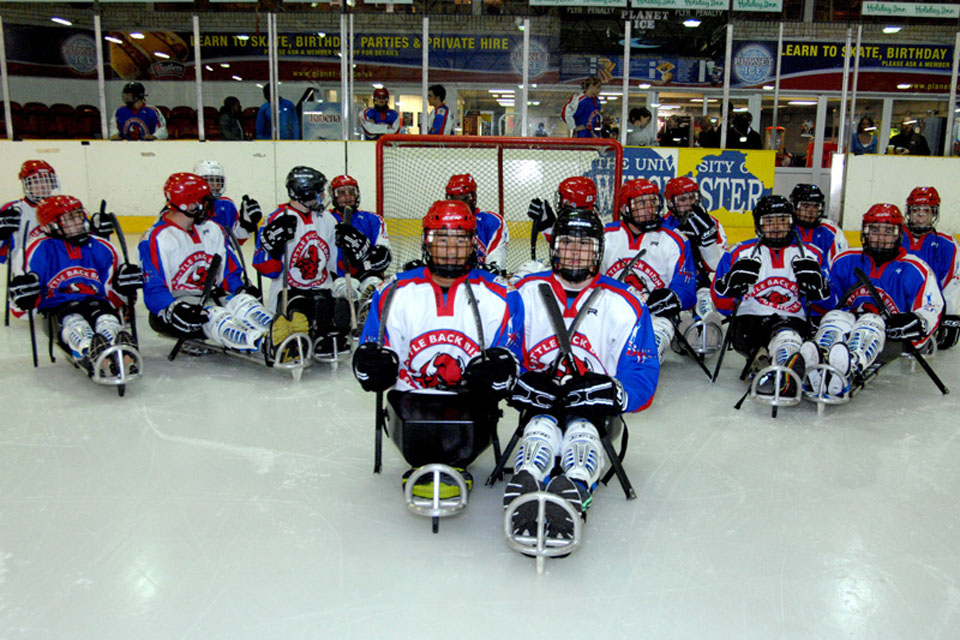 Captain Red Geddes, the Battle Back Bisons team manager, said:
The Battle Back Bisons are extremely grateful for the sponsorship provided by the Worshipful Company of Wheelwrights and Help for Heroes.
The Battle Back Bisons was set up to encourage Service personnel to return to sport, and ice sledge hockey is an exciting and high-adrenaline sport. Once personnel have given it a go, it quickly becomes compulsive due to its high speed and demanding fitness requirements.
It is an extremely strenuous sport as it requires a great deal of co-ordination, team work and determination. There is a great deal of psychosocial benefit as well as working the core muscles in maintaining the correct position and balance on the ice.
Battle Back is a tri-Service initiative which aims to improve and formalise the use of adventurous training and adaptive sport in the aftercare of wounded, injured and sick Service personnel in order to aid their rehabilitation and return to an active life.
Battle Back is currently run from the Defence Medical Rehabilitation Centre at Headley Court and funded by a grant from Help for Heroes.
The activities are designed to deliver programmes to promote confidence and independence, and focus on optimising what individuals can do rather than cannot do in order to promote a positive mental attitude throughout an individual's recovery plan.
Stephen Clark, Master of the Worshipful Company of Wheelwrights, said:
We are proud and delighted that we are able to help the Battle Back Bisons team and we have also supported different Battle Back sports through grants. We want to do more to support Battle Back and we have a number of events planned to raise even more money for them, including the Wheelwrights Battle Back Gala Evening in October 2011.
Money raised will be used to assist injured Service personnel who aspire to compete in the Paralympics or take part in Battle Back sporting activities. This carries on our tradition of supporting those with mobility challenges.
Bryn Parry, CEO and co-founder of Help for Heroes, said:
We are delighted to be able to support the B3 team. These guys show that whatever challenges you might face, you can overcome them with great success. The team have worked really hard to get where they are and we would like to wish them the best of luck in the national ice sledge league. Go for it guys!
Published 12 May 2011