Injured troops compete in Ironman Triathlon
A team of Armed Forces personnel, recovering at the Defence Medical Rehabilitation Centre from serious injuries, competed in the Ironman UK Triathlon event in Bolton, yesterday, Sunday 31 July 2011. Report by Lorraine McBride.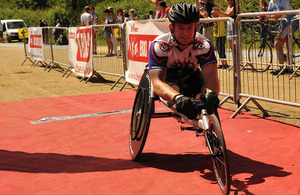 The Ironman UK is a long-distance triathlon, considered to be one of the toughest single day endurance events. It is a race comprising a 2.4-mile (3.9km) swim (open water), 112-mile (180km) cycle and 26.2-mile (42km) run (a full marathon).
The team of injured Service personnel competing in this year's event are undergoing rehabilitation at the MOD's Defence Medical Rehabilitation Centre (DMRC) at Headley Court. They included Royal Marine Joe Townsend, aged 23, who lost both his legs on operations in Afghanistan.
The ten-strong Headley Court team, plus two support staff per competitor, undertook the event in relay sections, except for Marine Townsend, who completed the entire Triathlon course.
Supporter Graeme Hardie organised an earlier warm-up marathon for Iron Man back in June 2011 (roughly half the distance of Ironman UK). He said:
Watching Joe Townsend race was a humbling experience. There were lots of able-bodied athletes who moaned their feet hurt. When they saw Joe on the course, they suddenly got on with it and were less worried.
The main event, yesterday, began with competitors getting up at 0300hrs to grab breakfast before donning wetsuits and plunging into a very cold lake at Pennington Flash, near Wigan, to swim 152 lengths (or 2.4 miles (3.9km)) front crawl non-stop.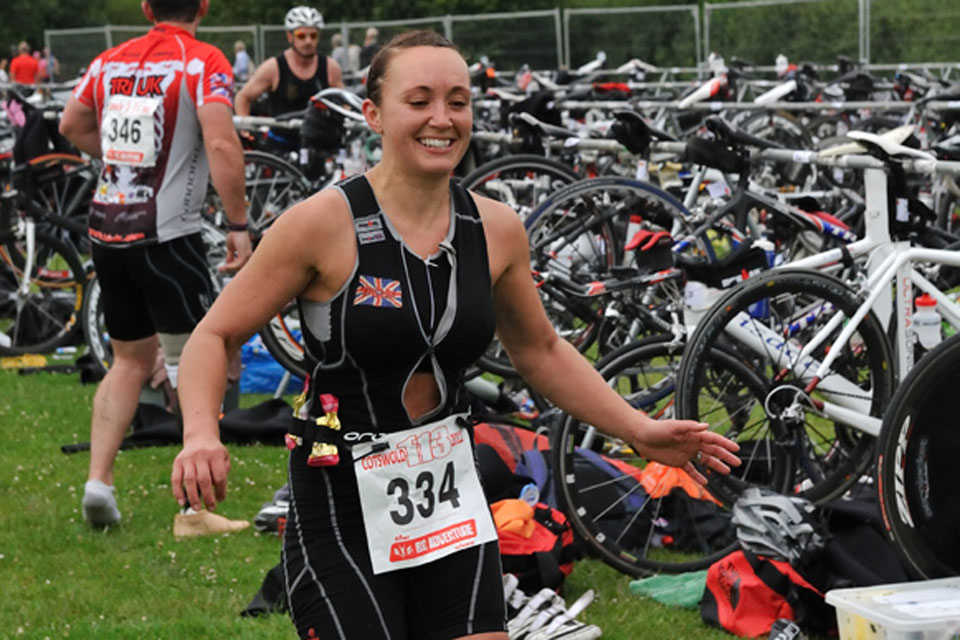 Then, they climbed aboard their bikes and cycled from Rivington and finishing in Lever Park, Horwich, the equivalent of Birmingham to London. It included the smaller climbs of the Pennine Hills including one two-mile (3km) long hill.
Finally, they completed a 26.2-mile (42km) marathon - but this was not any old marathon, it was the Ironman UK marathon - a mix of road and trails, with some nasty little hills to give surprises all along the way.
For those physically and mentally tough enough to get that far, there was a red carpet, grandstands, noise and crowds at the end to welcome each finisher across the line, where they could proudly collect their Ironman UK finishers t-shirts and medals.
Team coach Mark Airey was the brains behind DMRC's team. He works at Headley Court as an exercise and rehabilitation instructor and praised the generosity of the crowd, who cheered the DMRC athletes until they were hoarse:
I've done a couple of Ironman marathons in the past and realised what good training it is, and how much it focused my goals, and what a good buzz I got after crossing the line," he said.
Everyone involved the Headley Court team aimed to raise vital funds for the Help for Heroes and the Army Benevolent Fund and BLESMA charities. Coach Mark Airey said:
The money raised is just rocketing.
Last time he looked, they had raised £13,000, but Mark knows they will easily smash that target:
The team celebrated with champagne after they crossed the line," he said.
He recalled the team making their way to the start of the swim and an awe-struck crowd parting down the middle to let them through:
It was just fantastic, everyone cheered and the respect that the guys got was amazing," he said.
The highlight was everything, but Joe Townsend was amazing. It was a hilly course and he did the whole marathon in a racing wheelchair. The crowds went mental and, at the end, the whole team crossed together - and that was the high point of the day.
For more information or to sponsor the team, see the Team True Spirit website at Related Links.
Published 1 August 2011