Injured TA soldier benefits from return to work initiative
A Territorial Army (TA) soldier who was seriously injured in Afghanistan, leaving him unable to return to his former employment, took on a new challenge working amongst the national arms and armoury collection.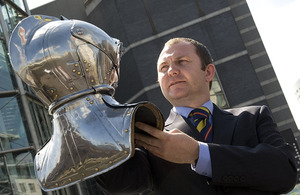 Lance Corporal David Sterling Brown, aged 39, from Dilwyn in Herefordshire, was left with a broken back and serious leg injuries when a roof was blown off a building by a low-flying helicopter in Garmsir last year.
Lance Corporal Brown, a member of the Royal Mercian and Lancastrian Yeomanry (RMLY) - a Territorial Army regiment whose history dates back to 1794 - was in a tent using a computer to send emails to his family when the roof landed on him causing devastating injuries.
Just weeks from the end of his first tour of Afghanistan he found himself being airlifted to Camp Bastion hospital with three broken bones in his lower spine.
It was only half-way through his laborious recovery back in the UK that it dawned on him he might not be able to return to his former employment as a specialist armourer, reproducing medieval armour pieces for private collections and museums around the world:
I was self-employed, making armour for everything from theatre productions to replicas for use in the national armouries," he said.

It was quite hard physical work and, when I started trying to walk again, the smallest movement was such a huge effort I quickly realised that going back to work may never be possible.

I panicked a bit to be honest. I didn't deal with it very well; there was a lot of disappointment and a total loss of confidence.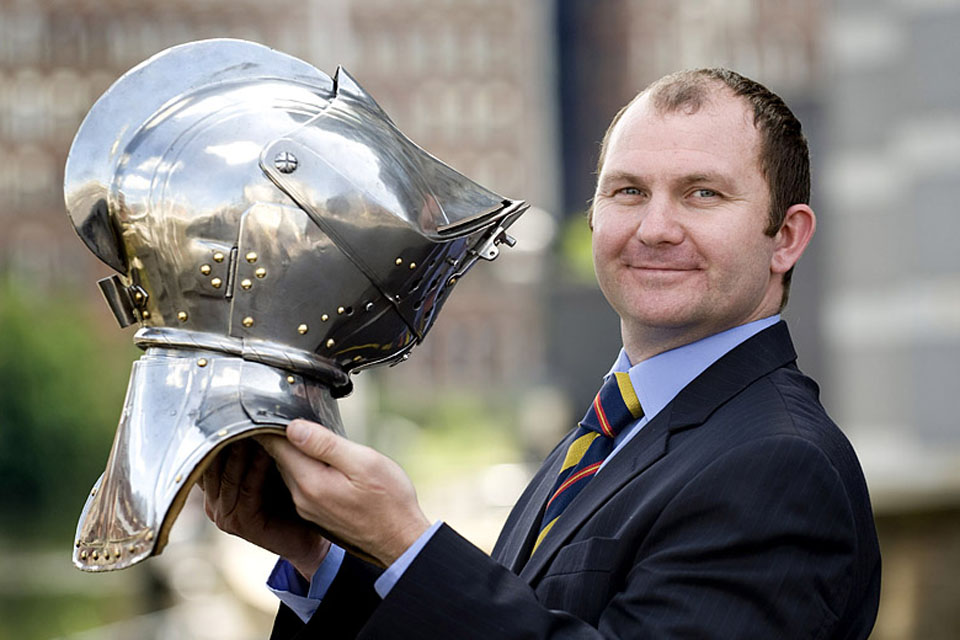 It was at that point that the Army welfare team began working to get Lance Corporal Brown into the 'Return to Work Initiative' - a programme run by the Ministry of Defence to help find meaningful employment for Service personnel in a period of recovery following illness or injury.
In April 2010 Lance Corporal Brown became the first reservist to benefit from the scheme when he arrived for his first day of a very fitting placement at the Royal Armouries Museum at Clarence Dock in Leeds.
The father of one took part in a vital project helping the staff of the museum to audit the national collection - an assortment which includes items that Lance Corporal Brown made himself prior to his deployment.
He admits that it has been a bit of a culture shock:
I've never done any type of office work before and I would never have thought of doing something like this so I'm learning a lot. But doing it in an environment where I'm surrounded by items that I know about makes it easier.

It's great that this placement came up when it did. It's good to have something to focus on while you recover fully.

When I leave this placement I'll have to find full-time work and this has been so enjoyable I would definitely look at something similar for the future.

Maintaining the register fits my perfectionist ideals; it's a challenge to get everything right. And it's guns and armour - big boys' toys - how can you not enjoy that?
Lance Corporal Brown's boss at the Royal Armouries Museum, 29-year-old Kathy Richmond, says that he has been a real asset:
The knowledge that he has brought to the project has been completely invaluable. We'll miss him when he leaves us. People like David don't just grow on trees!
Lance Corporal Brown completes his placement today, 15 July 2010, but remains a member of the RMLY and continues to receive treatment through the rehabilitation and recovery programme at the Reserves Training and Mobilisation Centre.
He is characteristically upbeat about his experience:
Obviously it would have been better if I'd come back without injury but I don't regret the tour itself and, if I was put back in the same position now, I would make the same decision to go.

We had a really good tour, we achieved a lot. I can honestly say I have no regrets.
Published 15 July 2010