Injured soldier gets keys to adapted home
Lieutenant Commander Nekrews praised Chief Petty Officer (Diver) Ian Fleming and Leading Diver Matt Baker for their efforts in safely detaching the mine from the vessel. He said: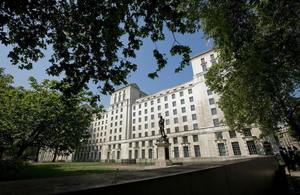 Private James Rose, aged 24 from Middlesbrough, was given the keys to his refurbished bungalow this week, following £156,000 worth of home adaptations work being carried out.
A member of 2nd Battalion The Yorkshire Regiment, Private Rose lost both his legs after an improvised explosive device went off underfoot while on patrol in Helmand province, Afghanistan, in November 2009.
Whilst recovering he bought the bungalow with fiancée Naoimi Wise, but its narrow rooms and hallways were a significant impediment to wheelchair use.
However, thanks to a call from the MOD's Works Requirement Team, the couple's bungalow has been redesigned by local contractor McCarrick Construction Ltd and architect John Dawson to meet medical, clinical and building regulations in respect of the Disability Discrimination Act.
It now features an open plan layout, larger rooms and corridors, modern bathroom with wet area facility, and level access to the front and rear of the home.
Speaking at the property, Private Rose said:
It's lovely, and spot on. I never thought it would be this big, I don't know what to do with all the space. The whole process has been really fast, and we were involved every step of the way with the design and build. Every month we had regular meetings where they told us what was going on.
I hope every injured soldier is aware of the support available when they leave hospital.
Naoimi agreed:
If the scheme wasn't brought to our attention, we would have wasted all our money on getting a wet room fitted and the doors widened. We wouldn't have been able to afford it without their help. It's been really good," she said.
The work took twenty weeks to complete and was funded by the MOD and military charities the Army Benevolent Fund and Haig Housing Trust as part of a specially adapted housing scheme for injured and disabled servicemen and women.
Major Sidney Goodall, who is a Capital Works Requirement Manager for the MOD's Defence Infrastructure Organisation (DIO), explained that the scheme means that the MOD will pay for essential work in the homes of injured personnel which are needed under medical and clinical needs and are required to meet building regulations standards under the Disability Discrimination Act.
The work begins when Major Goodall and his team are notified of someone who needs help to adapt his or her home by the Personnel Recovery Unit.
A home visit is then organised with the DIO requirements team, the injured person, a local surveyor and an occupational therapist. Then a requirements document is produced which is put out to contractors to tender for the work.
The work deemed essential is paid for out of the Net Additional Cost of Military Operations (NACMO) Fund, while work deemed desirable will be met by the individuals themselves or charities.
Rory Ingleby-Mackenzie, Operations Director for the Haig Housing Trust, was employed by Help for Heroes to provide guidance and contribute towards any special requirements that Private Rose had. He explained the importance of the Trust:
We visit Headley Court as soon as possible after injury to advise the soldiers so they don't make mistakes and waste all the money they receive from the Armed Forces Compensation Scheme on bricks and mortar. As that money needs to last them a lifetime, to cope with the lasting impact of their injuries.
We don't want them to buy the wrong sort of property or building work for their needs. So we help them throughout the process, whether it's doing a property search to meet their requirements, handling estate agent negotiations, or setting up shared ownership schemes. We help them in any way we can.
James' case is a very good example of the way to go for other injured soldiers. The work is fantastic, everything's been done very carefully so all the levels are right. It's a great example for future development.
Private Rose and Naoimi plan on moving into the property imminently. They have been living in rented accommodation whilst the work has been carried out.
Published 19 August 2011