News story
Injured personnel in bid for world-first microlight flight to the South Pole
A team of injured Service personnel are to attempt a world-first microlight flight to the South Pole.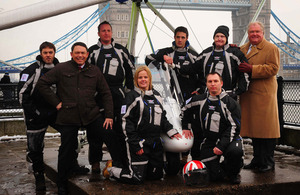 Yesterday, Tuesday 22 January, in partnership with Help for Heroes, six of the eight-strong team of pilots launched the Flying for Freedom mission which seeks to enhance recovery programmes for injured and disabled servicemen and women by getting them to experience the freedom of flying microlight aircraft.
Lord Digby Jones, Patron of Flying for Freedom, joined the 'squadron' at the Tower of London expedition launch to pay tribute to their bravery in tackling the task and giving fresh hope to all injured and disabled military personnel.
The expedition, which has never been attempted by an able-bodied person, will take place in 2014 after the team have completed their pilot's training and undertaken cold weather training.
The polar aero trek will involve a round trip flight of over 3,000 miles, flying at cruising altitudes of up to 10,000 feet in temperatures as low as -30°C.
The expedition will also attempt to achieve 3 world-firsts: the first flexible-wing flight in Antarctica, first over the South Pole, and first over Mount Vinson, which, at 16,050 feet, is the highest peak on the Antarctic continent.
The expedition is part of a wider programme being undertaken by Flying for Freedom to establish a number of 'flying' recovery centres around the UK for injured and disabled servicemen and women.
Lord Digby Jones explains:
The challenge and the thrill of learning to fly has been shown to boost the recoveries of those who have suffered injuries or disabilities. Flying for Freedom aims to bring this benefit to many servicemen and women, aiding their recovery and also teaching them a new skill which could help them when they leave the Armed Forces.
Martin Colclough, Head of Physical Development, Help for Heroes, said:
Overcoming adversity by pitting yourself against the elements of land, sea and air is what many members of our Armed Forces find incredibly helpful when coming to terms with their injuries.
For some this will be something simple such as learning to ski or ride a bike again but many others look for a unique challenge that's never before been attempted and this is such a challenge.
Over the last few years several injured personnel have discovered the freedom of flight but the Flying for Freedom South Pole Expedition takes aviation to a whole other level.
Help for Heroes are delighted to be working in partnership with Flying for Freedom; the men and women taking on this challenge are true pioneers and will truly deserve their place in the pantheon of great British aviators.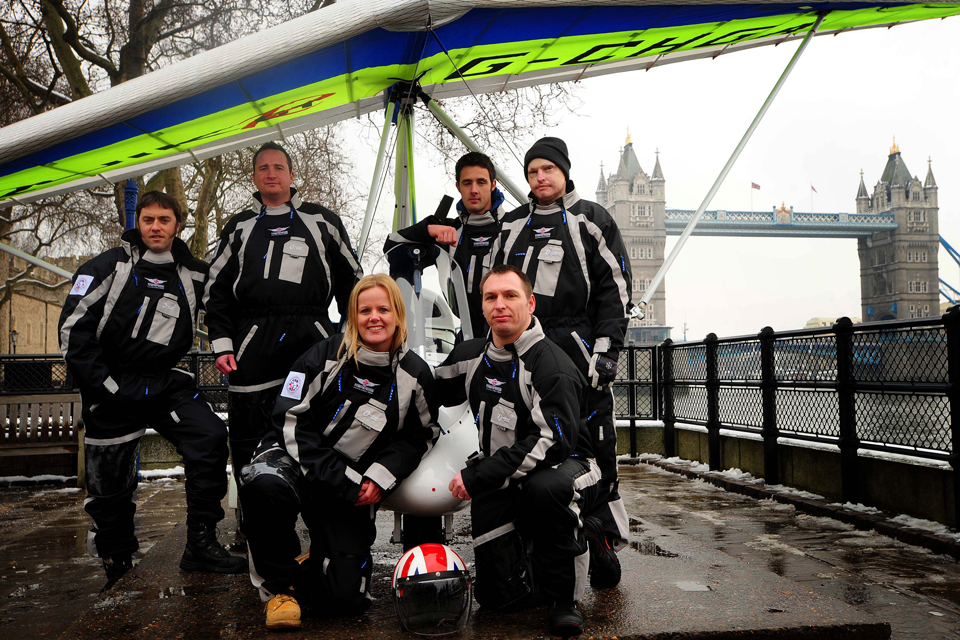 One of the participants, Flight Lieutenant Kat Janes, based at RAF Boulmer in Northumberland, spent time at Headley Court and met Martin Colclough last year in Utah at an adaptive bobsleigh and skeleton bob competition. She said:
I saw a presentation by Martin about the expedition to the Antarctic and straight away I was interested; it looked like a whole new challenge for me.
If you don't try these things you never know what you can do. I had never flown a microlight before but when I was airborne, open to the elements, it's unbelievable; the freedom you have up there is incredible.
The microlight is easy to handle and people who have disabilities can fly them; one of the guys I've met through the training is in a wheelchair and he flew from York in the UK to Sydney, Australia!
Flying for Freedom is seeking to raise sponsorship funds of £1.2 million to launch the full Flying for Freedom project and mount the expedition. It is already acquiring aircraft and training pilots thanks to the generosity of its two initial sponsors - EADS and Lord Digby Jones.
For more information visit www.fly2pole.com
Published 23 January 2013