Injured personnel display garden at Chelsea Flower Show
Patients at Headley Court are growing stronger through a gardening project which has culminated in the creation of a display garden at the Chelsea Flower Show.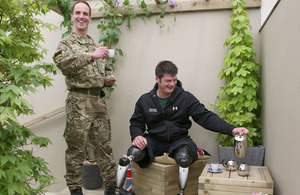 Staff and patients are exhibiting their display, the Courtyard Garden, at the prestigious event for the first time today. It will give them the chance to show how successful their horticulture as therapy scheme has become at Headley Court.
The Chelsea installation, designed by the show's longest-serving exhibitor Geoff Whiten, is an example of a permanent garden that has been built at Headley Court to help patients rehabilitate from their injuries. It is also a collaboration with military charity Gardening Leave, who work with the Armed Forces community to improve the mental and physical well-being of personnel using horticultural therapy.
Medical evidence has shown horticulture provides physical, neurological, cognitive and psychological rehabilitation. It tests patients' motor skills, as well as their strength and endurance. There is also evidence to suggest that being in an outdoor environment reduces stress, leading to improved concentration and helping individuals think through their problems or concerns.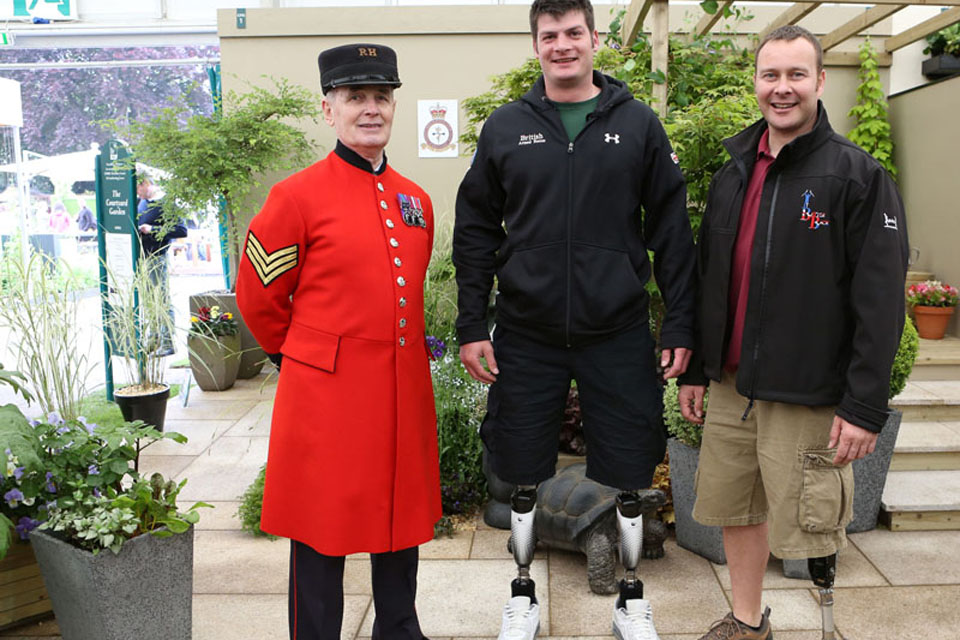 Defence Secretary Philip Hammond said:
Exhibiting at the Chelsea Flower Show is a great achievement and shows the determination of our injured Service personnel when recovering from injury.
"By using innovative ways to provide rehabilitation, the staff at Headley Court have shown time and time again the facility gives first-class treatment for those who need it."
Major Peter Le Feuvre, a military physiotherapist at Headley Court and a keen gardener himself, said:
The horticulture as therapy project has really grown over time. It started off with the refurbishment of some greenhouses and creation of allotments in the grounds of Headley Court. It became clear a bigger garden would provide an outside rehabilitation area and somewhere for patients to be able to have some contemplative time to themselves.
The Headley Court 'Test Track' garden features slopes, steps, uneven surfaces and different cambers. Learning to negotiate these different terrains is critical to enable the successful use of a prosthetic limb.
"The garden introduces these features in a gradual way, enabling the patients to increase their skills on a prosthetic and allows us to see the improvement in someone's motor skills through the repetition of activities such as walking up steps."
The Test Track garden has been built with help from a team from Sutton and East Surrey Water, with the planting devised and undertaken by horticulture lecturer Thomas Meenagh and students from Oatridge College in Ecclesmachan, Scotland.
Mr Meenagh's son, Private Scott Meenagh, from 2nd Battalion The Parachute Regiment, has been treated at Headley Court after he lost both legs when he was caught in an improvised explosive device blast in Afghanistan last year.
Mr Meenagh said:
I am very proud to be involved in the rehabilitation garden project as Headley Court has helped my son and his colleagues to recover from the injuries they sustained in Afghanistan.
"It is an incredibly worthwhile project for Headley Court to undertake and it also gives my horticulture students the chance to do practical work in a different environment to what they may already be used to and gain valuable experience for their studies."
Private Meenagh added:
I never thought I would follow my dad's interest in horticulture but being involved in the gardening project at Headley Court has really helped my rehabilitation following my injuries.
"I think the new Test Track will help other patients come to terms with the challenges of learning to use prosthetics and to navigate everyday obstacles like steps. The garden will add to the fantastic facilities that are already here at Headley Court."
Published 21 May 2012