Injured Marines triumph at Wounded Warrior Trials
Injured Royal Marines won nearly 20 medals in the recent United States Marine Corps Wounded Warrior Trials held in California.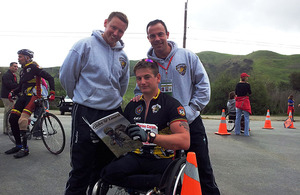 The Wounded Warrior Trials took place at Camp Pendleton in San Diego, California, in February. The trials were designed for American troops who had been injured on operations and formed part of their rehabilitation.
But for the second year in a row the United States Marine Corps (USMC) extended their invitation to Royal Marines and a host of Marines from allied nations including Canada, France, Germany, Holland, Colombia and Australia. These troops formed the allied team who competed against a USMC battalion team from the American east and west coasts, and a team of USMC veterans.
The USMC conducted their own trials to select a team to compete at the national games against the US Army, Air Force, Navy and Coast Guard.
In total the competition involved 375 competitors from around the world. It was based upon the paralympic format and the sports included wheelchair basketball, seated volleyball, track and field, cycling, 10m air rifle and pistol shooting, swimming and archery.
The Royal Marines team consisted of personnel from HMS Drake's Hasler Company, and Termoli Troop from 40 Commando.
Amongst the many Royal Marine successes at the trials were Marine Joe Townsend's haul of seven gold medals. Marine Townsend lost both his legs on operations in Afghanistan in 2008 in an IED blast. He is now in the British paralympic triathlon development squad for the 2016 Games in Brazil.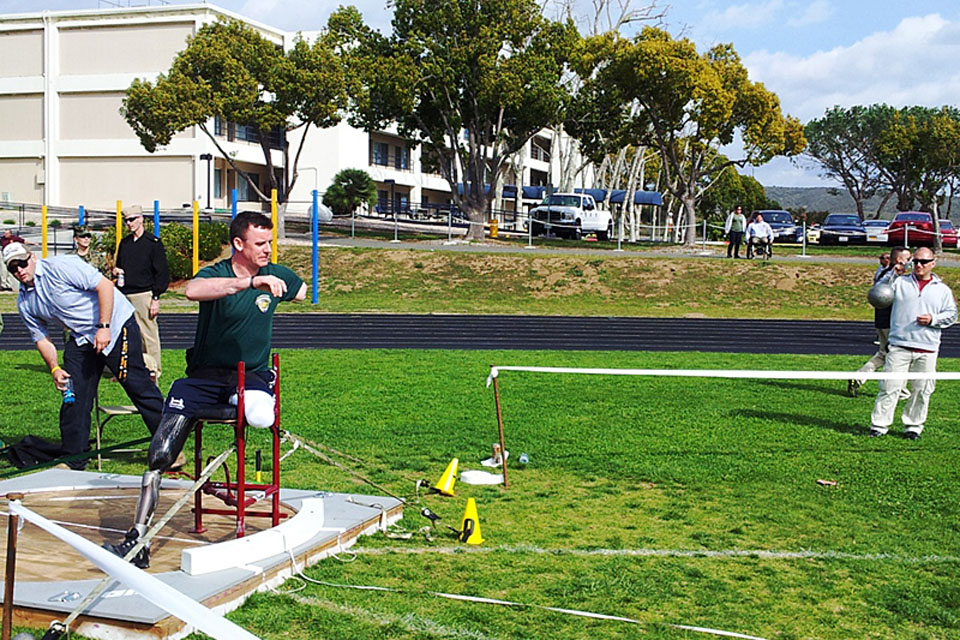 Sergeant 'Mo' Morris, a Physical Training Instructor in Hasler Company, accompanied the Royal Marines team to the trials. Hasler Company is a tri-Service military unit which is part of the Naval Service Recovery Pathway that manages the recovery needs of Service personnel with long-term injuries. The company, based at the HMS Drake Personnel Recovery Centre at HM Naval Base Devonport, administers various specialist rehabilitation and welfare services.
Sergeant Morris recalled some of his highlights from the Wounded Warrior Trials:
There were many memories that stand out, such as Joe winning seven gold medals, or 'Jonah' [Marine Martin Jones] failing to live up to his self-prophecy of 'dominating' at the games.

Some of my favourites include 'Spider' [Corporal Matthew Webb], who has only been walking on his new legs for two months, performing the 'two step' at a line dancing club. I am quite sure that move is not taught at Headley Court yet I am also positive they will be just as impressed as the American contingent who witnessed it.
In total the Royal Marines team won 11 golds, six silvers and one bronze medal. Sergeant Morris added:
The tangible rewards were not the true success of the games, the personal achievement was the real success story. Everyone had to battle with his physical and psychological demons to even get through the initial week of practice. They were to discover that their physical limitations were actually determined by what they thought they could not do.

An event such as competitive cycling, for someone who was visually impaired, allowed confidence to grow in the individual as it proved the skill could be transferred to enjoy a bike ride with his children.

Alternatively, a triple-amputee having to learn how to climb up and down the bus stairs every day to get to training allowed the thought of freedom at home. The power of the games affected not only confidence and attitude, but the journey of self-discovery allowed for a positive vision for the future and the realisation of what can be done, not what you can't do.
Published 6 March 2012