Initial reassessments of those on IB in Aberdeen and Burnley show large numbers of claimants with the potential to return to work
The first published findings from the Government's incapacity benefit reassessment programme.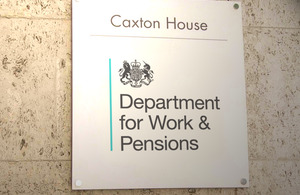 The first published findings from the Government's incapacity benefit reassessment programme have confirmed that a substantial proportion of claimants have the capacity to return to work if they receive the right help to do so.
The provisional figures show that we have made 1347 decisions of which:
399 have been found fit for work (29.6%)
422 are in the support group for Employment and Support Allowance (ESA) - this means they will receive unconditional support (31.3%)
526 are in the Work Related Activity of ESA - this means with the right help and support they can start the journey back to work (39%)
The Government will continue with its plan for a further limited roll-out from the end of this month before the full nationwide launch in April. Once the nationwide roll-out begins around 1.5m people will be assessed. The Government is already well advanced with the introduction of changes to the work capability assessment recommended in the recent Harrington report and all the planned changes will be in place for the full national roll-out of the programme.
In tandem with the first nationwide decisions coming through in the summer, the Government's new Work Programme will come on stream, providing comprehensive specialist help to all those with the capability to work.
Employment Minister Chris Grayling said:
The initial findings from Burnley and Aberdeen serve to underline why it's right to reassess IB claimants and to launch the Work Programme to give those who can work the specialist help they need to do so. Too many people were simply abandoned to a life on benefits; we are determined to put a stop to that terrible waste of potential.

The welfare state in this country is no longer fit for purpose that's why our broad range of reforms are so important.
Notes to Editors
The reassessment of incapacity benefits customers which began in the surrounding areas of Burnley and Aberdeen in October, is expected to take three years to complete.
Published 10 February 2011