News story
'Infrastructure is the backbone of a strong economy', says Deighton
On a visit to South Yorkshire, Lord Deighton talks infrastructure investment with local leaders and visits world-leading manufacturing facilities.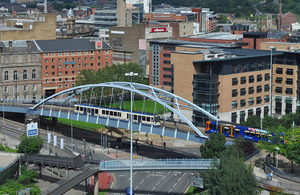 On Wednesday 2 October Commercial Secretary to the Treasury and minister in charge of infrastructure delivery, Lord Deighton visited Sheffield to meet local leaders as part of his work as chair of the HS2 Growth taskforce.
He attended a roundtable with representatives from the business community and local government to hear their views on how the region plans to maximise the benefits from the better connections, jobs and new business opportunities that HS2 will create in the area over the coming years.
He also visited the world-leading manufacturing and research facilities at the Advanced Manufacturing and Research Centre at University of Sheffield, Rotherham. The centre received funding towards the development of its new facilities as part of the government's £100 billion investment in infrastructure at the Spending Round in June.
The £43 million state of the art 'AMRC Factory 2050' is expected to be completed next year, with £10 million of government money, match funded by Boeing, Airbus, Rolls-Royce, BAE Systems and Spirit AeroSystems.
The facility is a core member of the High Value Manufacturing 'Catapult', innovation centres which bring research and commercial practices into one place.
The AMRC has already created 200 jobs and is bringing in hundreds of millions of pounds through private sector funding and research grants.
Commercial Secretary to the Treasury, Lord Deighton said:
As I've seen in South Yorkshire, good infrastructure is the backbone of a strong modern economy. Through investing in innovative, bold projects such as HS2 and the world-leading research facility at the AMRC we can attract jobs, create new business opportunities and establish the UK as a leader in the global race.

The government is investing more and stripping back planning so that we can get on with delivering our infrastructure priorities, but we also have to get businesses, local leaders and innovators to take action across the UK. I've been very grateful to hear the views of local leaders in the Sheffield City Region on how they are taking action to make sure they maximise the benefit of big, ambitious infrastructure investment in the area.
Published 2 October 2013