Information for British nationals in Tunisia
We advise against all but essential travel to Tunisia.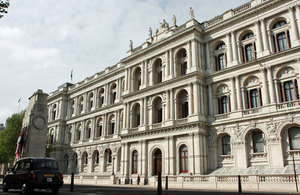 If you are in Tunisia, register with our LOCATE service to to tell us when and where you are travelling or where you live so our consular and crisis staff can provide better assistance to you. If you want to contact us about a friend or relative in Tunisia, please call on 020 7008 1500.
If you do not have a pressing need to be in Tunisia, we advise you to leave the country by commercial means. Tunisian airspace remains open. British nationals who have a confirmed flight and have not heard from their airline should check with them to confirm whether flights will leave.
Whilst still in Tunisia, you should stay away from demonstrations and large gatherings of people, public buildings (such as Government offices, the Presidential Palace), exercise caution, and observe instructions given by local security authorities and tour operators. We recommend that you remain indoors if possible.
On 17 January, Prime Minister Mohammed Ghannouchi announced the formation of a Government of National Unity in Tunisia. Parliamentary Speaker, Foued Mbazaa has taken over as interim president. The situation remains unpredictable and, although the situation overnight (17-18 January) was quieter than the previous night, there continues to be sporadic violence and looting.
A State of Emergency was declared on 14 January under which it is illegal for more than two people to congregate in a public place. A curfew between 1800 and 0500 remains in force in the Greater Tunis area and there are road blocks throughout the city. The Tunisian authorities may impose curfews in other areas. You should respect the curfew. Please follow developments closely and stay in touch with your tour operator.
For further information see our Travel Advice for Tunisia.
FCO Travel Advice is regularly reviewed and updated. We base our advice on information from our embassies, the intelligence services and local knowledge. The safety of British nationals is our absolute priority when making these decisions.
Published 18 January 2011