Press release
Industry leaders are working together to raise the bar on skills in the offsite construction sector
Employers in the offsite construction sector have signalled the importance of working together to recognise and address skills gaps if they are to capitalise on the growth opportunities available to the sector.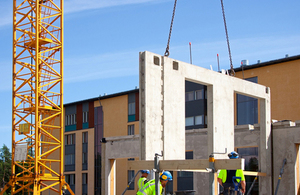 The employers, including Skanska and Laing O'Rourke, have led five skills projects funded through co-investment with the UK Commission for Employment and Skills (UKCES) Futures Programme. The projects piloted different approaches to improve sectoral collaboration and provide better training opportunities for both new and existing workers.
Today (Thursday 22 October), UKCES publishes findings based on the delivery of these projects which demonstrates:
the clear need for industry leadership to capitalise on the opportunities afforded by the industrialisation of the sector
employers can raise the bar on skills in sectors, regions and supply chains, by working with each other, their employees, universities and professional associations
collaboration has been shown to be vital to building the skills needed for growth and the topic of skills has brought competing businesses together to address their common need
competitors can become collaborators where there is a commonly experienced challenge which can be better tackled together and where there is a foundation of strong individual or group relationships which can be built upon
the breadth and depth of skill gaps were sometimes greater than projects first realised, but in recognising the gaps, corrective action could be taken. The report shows that it is crucial for employers in the sector to take responsibility and recognise these gaps otherwise they risk being left behind
educators and businesses must work more closely together to ensure educational institutions and professionals keep up with technological advancements and ensure innovation can be capitalised upon
Rob Francis, director of innovation and business improvement at Skanska, commented on the value of collaboration:
This challenge allowed us to look at something in a completely different way, and to take it forward together.
It is clear that change in the sector needs to be a long-term commitment. Dr Bill McGinnis CBE, former chair of the McAvoy Group (offsite solutions) and former UKCES Commissioner, leading the offsite construction productivity challenge, said:
Although the scale of the skills challenges is greater than can be addressed through 6 month projects, this challenge has catalysed the start of, in the words of one of our project leads, 'a 10 year change programme' to ensure it has the skilled people it needs to fulfil its potential.
The evaluation report also indicates that these findings are applicable to wider sectors, as well as offsite construction. Carol Stanfield, assistant director at UKCES, said:
The Challenge has supported businesses in the off-site construction sector to tackle specific issues prompted by technological developments. However, much of the learning that we gathered from these projects, about collaboration and sharing best practice, is applicable to any sector facing similar technological change – something that is currently affecting almost the entire economy.
The full evaluation and learning is available on GOV.UK.
Areas addressed through the five projects included management skills, operational skills and developing contextual understanding of the offsite construction sector. Specifically, these projects are:
Skanska
created an employer-led Offsite Management School with over 200 unique member companies and almost 300 individual learners
Laing O'Rourke
developed a live site scenario for training solutions allowing changes to be implemented in real time, cutting delays, improving ways of working and reducing waste
Steel Construction Institute (SCI)
consulted with over 75 companies to develop and test online learning and training resources, with over 1000 requests for best practice tools from the sector
Edinburgh Napier University
created an 'Offsite Construction Hub' to define and showcase skill requirements and encourage collaboration between professions, engaging with over 200 employers to gather a broader sector understanding
Buildoffsite
expanded their online comparison tool to evaluate onsite and offsite solutions at the early development stage; encouraging employers, surveyors, architects and engineers to consider offsite alternatives before committing to design solutions
See
Published 22 October 2015