Industry day for Electronic Warfare and Cyber suppliers
The Defence Science and Technology Laboratory is setting up a new commercial construct covering cyber, systems, weapons and analysis.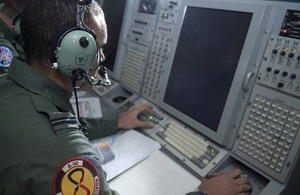 Suppliers working within the areas of Electronic Warfare and Cyber (EW&C) are invited to a Defence Science and Technology Laboratory (Dstl) industry day on 26 November 2014.
The event in Basingstoke will focus on a new EW&C procurement for defence suppliers, covering 4 capability areas – cyber, systems, weapons and analysis. Suppliers will be given an opportunity to comment on the draft technical requirement and commercial construct.
The aim of the procurement activity is to provide easy-to-use, direct access to current and future requirements in the following EW&C capability areas:
Engineering design, manufacture and assessment
Cyber, software & modelling
Sensor, sensor systems and signature measurement
Trials and capability operation
Dstl is estimated to spend around £200 million over 4 years in the EW&C arena.
Dstl's Principal Commercial Manager Lee Hammond said:
We plan to award a contracting mechanism that enables rapid response to emerging capability needs and urgent operational requirements within the field of Electronic Warfare and Cyber, and allows Dstl to collaborate with suppliers to realise the benefits of collective knowledge and technology.
Suppliers working on these activities will require access to UK classified information, so will need the appropriate Personnel Security Clearance. Suppliers' facilities, where the classified work will be undertaken or held, will also need to be granted a Facility Security Clearance. Suppliers must therefore be willing to be subjected to the necessary clearance processes.
The EW&C works in collaboration with Dstl's contracting framework Research Cloud (R-Cloud). Suppliers are invited to sign up to both, if appropriate.
For further information, please email: dstlewcframework@dstl.gov.uk
Published 7 November 2014