News story
Industry and government need to work together to deliver infrastructure, says Deighton
At Construction Summit, Lord Deighton calls for joined-up working between government and industry.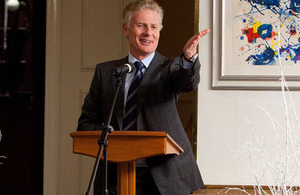 In a speech to the annual Government Construction Summit, Commercial Secretary to the Treasury, Lord Deighton called for government, industry and innovators to work together to ensure the UK is seen as the best place to invest, and to deliver much-needed infrastructure.
Deighton was speaking five days after the government launched 'Investing in Britain's Future' which set out £100 billion of infrastructure spending over the next parliament.
He assured industry representatives that infrastructure is a top priority for the government.
As we saw at the Spending Round, infrastructure is right at the top of the government's priorities. Investing in major projects creates jobs, boosts businesses and has a big impact on growth on a local and national scale.
In the long term, we want Britain to have the best roads, rail, airports, flood defences, energy and digital network so that we can achieve our potential as a country and win the global race.
Deighton acknowledged that infrastructure delivery can take time, but that the government is committed to long-term investment.
…we're driving forward progress and working with the private sector and research experts to plan and build for the future.
The Government Construction Summit is an important annual event for the construction industry, providing discussion between the industry and government on issues facing the sector.
This year's summit saw the launch of the government's Industrial Strategy for Construction.
Other speakers at the summit included Michael Fallon, Minister of State for Business and Enterprise, Chloe Smith, Minister for Political and Constitutional Reform and the government's Chief Construction Adviser, Peter Hansford.
Photo by the Financial Times on Flickr. Used under Creative Commons.
Published 2 July 2013