Press release
Industry and government join forces to launch new vision for UK rail supply chain
Industry and government have come together to set the strategic vision for the strengthening of the UK's rail supply chain.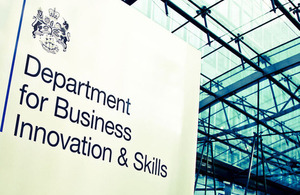 Industry and government have today (21 January 2015) come together to set the strategic vision for the strengthening of the UK's rail supply chain.
At an event hosted by Business Secretary Vince Cable, Transport Secretary Patrick McLoughlin and Terence Watson, President of Alstom UK, the Rail Supply Group (RSG) presented a vision statement outlining how it will meet the demands of tomorrow's railways, create more jobs and boost UK exports.
The vision statement also confirms that over the coming months the RSG will develop an Industrial Strategy for the rail supply chain with a clear implementation plan.
Speaking at the launch, Business Secretary Vince Cable said:
Britain's valuable train supply chain is renowned for excellence in an array of disciplines from train design to signal solutions. We are committed to keeping the industry on track as a global leader which is why we are creating a unique partnership through the Rail Supply Group.

The group will work together to future proof this valuable sector through a long-term Rail Supply Chain Industrial Strategy - creating more jobs and ensuring the UK can capture a share of the global rail market, worth £150 billion per year.
Transport Secretary Patrick McLoughlin said:
We are investing record amounts in the UK's rail network, and other countries around the world are following in our footsteps. This is a massive opportunity for British rail suppliers to capitalise on this investment and win new business at home and abroad.

The Rail Supply Group has a vital role to play in supporting these companies, ensuring they deliver a lasting legacy of long-term economic growth.
Co-chaired by the Business Secretary, Transport Secretary and Terence Watson, President of Alstom UK, the Rail Supply Group brings together private sector representatives from across the rail industry with government.
The group is seeking to help British manufacturers take full advantage of the anticipated growth in domestic and international rail. Over £38 billion is being spent in 2014 to 2019 to maintain and improve the UK rail network in the biggest modernisation programme for over a century and projects such as Crossrail supporting 55,000 jobs and creating more than 400 apprenticeships along the supply chain.
Meanwhile the world's rail supply market is expected to grow by 2.7% per annum over the next 6 years, presenting a wealth of exporting opportunities for UK suppliers.
The Rail Supply Group Vision Statement sets out an ambitious view of the future where, by 2025, the industry will:
more than double export volumes
attract the very best UK talent to create a sustainable skills base and to develop new technologies
harness the energy, drive and innovation of SMEs to meet the needs of the global railway market
be a global leader in High Speed Rail
have an entrepreneurial supply chain that constantly innovates to meet customer needs, from urban to intercity networks
Terence Watson President, Alstom UK said:
All of the UK's industrial companies should be watching the rail sector closely. There are opportunities for growth not only for established players, but for digital, manufacturing, engineering and service companies of all sizes and from all industries. We need the best of the UK's talented, innovative and entrepreneurial people to help us create a truly world class rail supply industry - and to make the UK a global leader in rail again.
The RSG announcement is a further example of government support for the rail supply industry, such as the 'Accelerating Innovation in Rail' collaboration between rail companies and Innovate UK. Two competitive rounds have awarded £12.2 million of funding to date to 27 projects worth £22.2 million to the industry, with a further £6 million available from March 2015 in the third round of competition. This funding is awarded to businesses innovating in technologies which can address future challenges and customer needs in UK and international rail markets, laying the tracks for long-term growth.
Notes to editors
The British rail industry contributes £9.3 billion a year to the UK economy and employs more than 200,000 people.
The Rail Supply Group provides leadership, direction and support so that the rail industry can grow employment, market share and make a significant contribution to the UK economy.
The vision statement was launched today (21 January 2015) at an event held at the Department for Business, Innovation and Skills that was attended by senior representatives from across the rail industry.
Speakers included Transport Secretary Patrick McLoughlin, Business Secretary Vince Cable, Terence Watson, President of Alstom UK, facilitated by Adrian Shooter CBE, Chairman Oxfordshire Local Enterprise Partnership.
For more information on the Rail Supply Group visit: www.railsupplygroup.org
Published 21 January 2015