Press release
Industrial Development Advisory Board strengthened with new appointments
Nicola Foulston and Sybella Stanley have joined the Industrial Development Advisory Board.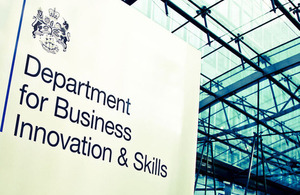 Business Minister Michael Fallon has today (11 February 2014) welcomed 2 new appointments to a panel of industry experts working to help government boost growth in business.
Nicola Foulston, Chair of fund management firm VV Capital, and Sybella Stanley, Director of Corporate Finance at Reed Elsevier Group plc, have joined the Industrial Development Advisory Board(IDAB).
IDAB offers strategic business advice on large applications from companies bidding into government schemes like the Regional Growth Fund, and also considers proposals for new business support programmes.
The news comes as existing members Chris Higson and Charles Lochrane have been re-appointed to the group for a further 3 years.
Business Minister Michael Fallon said:
I welcome Nicola and Sybella to the Board, as I know their skills and experience will be highly valued. Equally, I am pleased that Chris and Charles have agreed to serve as members for a further 3 years.

I look forward to continuing to work with the Board, whose business expertise helps us make sure that public investment in private sector projects has the best possible impact on economic growth.
The appointments take the number of Board members to 12, who come from a range of professional backgrounds including accountancy, banking, infrastructure, consultancy work and academia.
Notes to editors:
1.The Industrial Development Advisory Board (IDAB) is a statutory body set up to advise ministers on their use of financing powers in the Industrial Development Act 1982. In practice, the Board considers large applications from companies bidding into the Regional Growth Fund scheme. It also advises on proposed new schemes.
2.The appointments are part-time and unpaid. The new appointments will run initially for 3 years from 1 January 2014. The re-appointments will also run for 3 years, from 1 December 2013.
3.For more information on the Board, including current membership, please go to the Industrial Development Advisory Board.
Biographies:
Nicola Foulston
Nicky Foulston was made the UK's Businesswoman of the Year in 1996, 6 years after becoming CEO of the Brands Hatch Leisure Group. She took the Group from a value of £6 million in 1991 to more than £120 million before managing its sale to the American agency giant, Interpublic, in 1999. Nicky then moved abroad, having 2 sons while living quietly in Switzerland. She returned to the UK in 2010 and is now chairman of VV Capital, a small fund management firm with a private equity division specialising in investment in, and management of, sports, entertainment and leisure interests in this country and the USA.
Sybella Stanley
Sybella Stanley is Director of Corporate Finance at Reed Elsevier Group plc, where she manages Reed Elsevier's global mergers and acquisitions programmes. Before joining Reed Elsevier in 1997, Sybella was a member of the M&A advisory teams at successively Citigroup and Barings. She qualified as a barrister. Sybella is also a trustee of the Britten-Pears Foundation and a member of the Somerville College Oxford Development Board.
4.The government's economic policy objective is to achieve 'strong, sustainable and balanced growth that is more evenly shared across the country and between industries'. It set 4 ambitions in the 'Plan for Growth', published at Budget 2011:
to create the most competitive tax system in the G20
to make the UK the best place in Europe to start, finance and grow a business
to encourage investment and exports as a route to a more balanced economy
to create a more educated workforce that is the most flexible in Europe
Work is underway across government to achieve these ambitions, including progress on more than 250 measures as part of the Growth Review. Developing an Industrial Strategy gives new impetus to this work by providing businesses, investors and the public with more clarity about the long-term direction in which the government wants the economy to travel.
Published 11 February 2014