Induction regulations for newly qualified teachers
DfE is looking at induction arrangements for newly qualified teachers to see how they can be improved to better meet the needs of schools.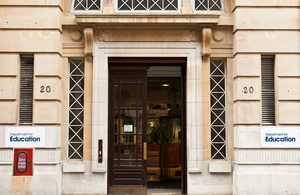 The Department for Education is looking at the induction arrangements for newly qualified teachers to see how they can be refined, improved and updated to better meet the needs of teachers and schools.
Qualified teachers who are employed in maintained schools in England must, by law, have completed an induction period after their initial training. The induction period usually lasts for 3 terms.
The current regulations and guidance on statutory induction were last updated in 2008, run to more than 70 pages and are based on the needs of the school system in 1999. Some schools say that current process is bureaucratic and can be a barrier to recruiting and retaining good teachers.
The department will informally consult with key stakeholders such as headteachers, induction co-ordinators and newly qualified teachers.
It will consider things like:
how induction can support and challenge newly qualified teachers to improve their confidence and quality of teaching in their first year of practice;
the level of regulation needed in induction and whether schools should play a greater role in induction arrangements than they currently do;
the role of new teaching schools in future induction arrangements;
how quality assurance of new teachers can be secured for all schools including academies, free schools and independent schools.
Schools Minister Nick Gibb said:
The countries that provide the best education are those that value teachers most highly and train them to the highest standard. We have some of the best teachers in the world, but it is vital that their training and development keeps pace with what schools and pupils need.
Our schools white paper 'The Importance of Teaching' sets out how we will do this by reforming initial teacher training, creating new teaching schools and improving professional development.
This is the first step towards a less bureaucratic and more fit for purpose induction programme for our newest teachers, to set them on the path to a successful career.
The department will formally consult on new regulations for the statutory induction period in the autumn term. The consultation will run for 12 weeks. We expect that new arrangements will come into force by September 2012, along with the revised Teachers' Standards.
The changes to induction arrangements will apply to maintained schools in England. They will also apply to independent schools, academies, free schools and other settings that wish to provide statutory induction for their newly qualified teachers.
DfE media enquiries
Central newsdesk - for journalists 020 7783 8300
Published 28 April 2011