Indian troops complete joint training exercise on Salisbury Plain
Assisted by British Chinook helicopters, Warrior armoured fighting vehicles and Challenger battle tanks, soldiers from the Indian Army's 3rd Battalion The Bihar Regiment have successfully carried out a counter-insurgency exercise in the middle of Salisbury Plain.
The exercise took place on Friday, 19 August 2011, the final day of four weeks of training alongside British troops from 19 Light Brigade in the bilateral military exercise Ajeya Warrior.
As the 100 Indian infantry soldiers arrived at the objective in two Warriors and four Chinooks and started to fan out, they were watched from nearby high ground by their Commanding Officer, Colonel Gahan Deep Singh, and two senior officers, Major General Sunil Jha from the Indian Army's South West Command and Brigadier Sarb Jit Singh Deusi, Commander of 83rd Infantry Brigade.
It did not take long for the 'insurgents', played by soldiers from B (Rorke's Drift) Company, 2nd Battalion The Royal Welsh, to be overcome and captured. The Royal Welsh soldiers were impressed by the professionalism of the Indian soldiers. Colour Sergeant Lee Harris said:
They were very aggressive and determined and nothing was going to stop them. They knew what positions they needed to be in and were very quick. Many of their tactics were different from ours but they were very effective - they knew exactly what they had to do and how many soldiers to commit.
It was the culmination of a month of company-level field exercises on Salisbury Plain Training Area for the soldiers of 3rd Battalion The Bihar Regiment, who arrived in the UK from their base in Rajasthan in July.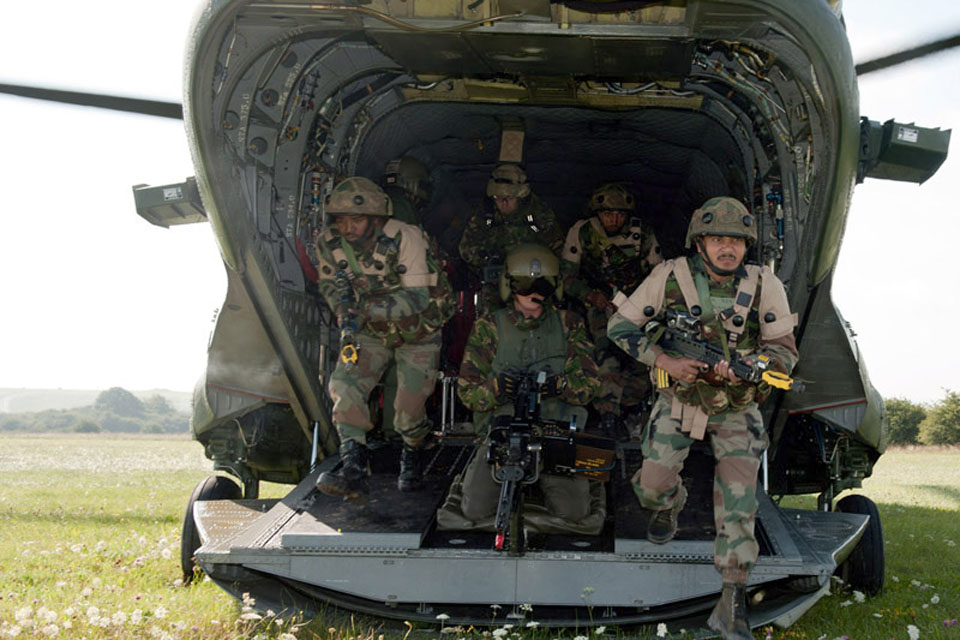 Exercise Ajeya Warrior simulated a scenario where both nations worked together on a joint operation.
The British and Indian Armies have developed a close relationship over the past three years - Indian soldiers exercised with British troops in 2008 in the UK and last year a reciprocal company exercise took place in India.
Having watched the exercise General Jha said:
We want to learn from each other and there has been a real meeting of minds on this exercise. Being able to sit down and talk about different tactics, drills, the amalgamation of technology and operations has been good for both sides.
What I have seen today shows that the application of technology and force multipliers acting as part of coalition forces far away from their mainland, building a logistical chain, and operating in a country with a different culture and language is a very valuable lesson my troops will take home.
Any time two armies get together like this there are phenomenal mutual gains.
The last month has not been all work and no play for the visiting Indian soldiers as a number of cultural and sporting events were included in their programme. These included visits to London and Longleat and taking part in cricket and football matches. See Related News to read more about the cricket match.
Brigadier Stuart Skeates, the Commander of 19 Light Brigade, said:
We could not have wished for a better group of officers and soldiers to train alongside. This has established a relationship with the Indian Army for the future - they have been able to learn from us and us from them; it is always good to share ideas over cups of tea around camp fires and bashas.
I hope the last four weeks on Salisbury Plain have strengthened and developed that relationship.
Published 23 August 2011