Indian minister's visit to the UK marks a new era of enhanced partnership
Anand Sharma met with David Cameron at Number 10 Downing Street today.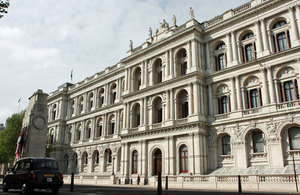 India's Minister for Commerce and Industry, Anand Sharma, met with Prime Minister David Cameron at Number 10 Downing Street today while visiting the UK for talks with Secretary of State for Business, Innovation and Skills Vince Cable and Universities and Science Minister David Willetts.
The bilateral talks covered trade, investment, education, science and research. Secretary of State Vince Cable said:
"The coalition Government is committed to an enhanced partnership with India. I am delighted to welcome Mr Sharma and to open a very positive dialogue on a range of important issues with the Indian government.
"Bilateral trade is worth over £11 bn a year, and India is already the second biggest foreign investor to the UK by number of projects. We must build on that. Freeing up trade is vital. We will push for a successful outcome to the Doha trade talks and bringing the EU-India free trade talks to a swift and positive conclusion."
Vince Cable also greeted a delegation of top Indian business leaders from the Confederation of Indian Industry (CII) who are accompanying the Indian minister on his visit. The delegates include: Hari S Bhartia, President of CII and Managing Director of Jubilant Organosys Limited, B Muthuraman, Vice Chairman of Tata Steel and Vice President of CII, and Vikram Mehta, Chairman of Shell India.
Published 29 June 2010