News story
Indian deal gives UK firm a foothold in Asian smart cities
Connected Cities trade mission supported by Innovate UK opens up opportunities for Lancashire firm's asset information technology services.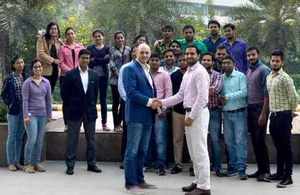 The boss of Gaist Solutions returned from an Innovate UK-backed Connected Cities trade mission to India with a deal that gives the company greater access to a growing infrastructure market in Asia.
Gaist, which is based at Lancaster University, has taken a 50% share of Optimint Solutions, based in Gururgram on the outskirts of New Delhi.
Managing director Steve Birdsall said the partnership would provide a base for growing Gaist's business as infrastructure asset information providers across Asia. He added:
With the scale of development and investment into infrastructure and new smart cities, India represents a huge opportunity for high-tech UK companies.
Gaist has seen strong interest from Indian authorities and businesses in its technology and services.
The trade mission was hugely successful. We are already tendering for work in the city of Pune and are drafting memoranda of understanding with several potential partners. It will mean we can gain access to markets across the whole of India and the Middle East.
Smart cities market
The Connected Cities Mission comprised a delegation of more than 20 of the UK's most innovative companies and was a joint initiative between Innovate UK, the Department for International Trade (DIT), Enterprise Europe Network and the Future Cities Catapult.
It was part of a series of UK-India missions organised by DIT to tie in with the India-UK Tech Summit in Delhi last week.
Niraj Saraf, Innovate UK's mission lead, said:
This is a great early-win from the Connected Cities trade mission and highlights the real opportunities that are open to UK businesses from India's smart cities market.
Optimint's managing director, Deepak Dalal, said:
Gaist and Optimint have shared a great partnership for over two years and this deal will allow us to exploit the excellent technology and services we have built together. We are already growing our staff base from 50 to 120 by January 2017 on the back of this deal.
Published 15 December 2016