World news story
UK hosts panel discussion in Kolkata on International Democracy Day
The British Deputy High Commission Kolkata hosted a panel discussion on 'Dialogue and Democracy' to mark the International Democracy Day.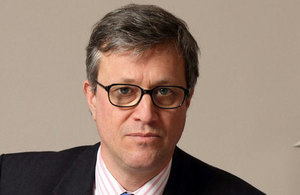 The panellists included:
Rajat Roy, Senior Journalist
Ghazala Yasmin, Professor, Department of Journalism, Alia University
Professor Iman Kalyan Lahiri, Department of International Relations, Jadavpur University
The audience comprised of students, academics, professionals, journalists and civil society members.
Bruce Bucknell, British Deputy High Commissioner Kolkata talked on democracy and the UK's commitment to democratic values and principles.
The event generated interest and engagement on the democratic process, values and principles and strengthened contacts with Next Gen and Living Bridge stakeholders.
There was also a quiz for the audience created awareness of how much we know about the Indian and UK democratic processes.
Speaking on the occasion, the British Deputy High Commissioner Kolkata Bruce Bucknell told the gathering that UK is one of the world's oldest democracy with a core belief in universal human. Mentioning that democracy in each country is different, he said India is a great example of vibrant democracy at work.
India is so diverse – culturally, economically, climatically, racially, linguistically, ethnically, and religiously.
He said the UK supports NGOs working to increase citizen participation. He cited many examples like:
supporting a community cohesion programme in Hyderabad - a platform for youth to celebrate diversity and promote inclusion
combating violence and discrimination against Dalit women in Telangana, Bihar, Maharashtra and Uttar Pradesh
empowering female factory workers so they are informed on gender equality, sexual harassment and better informed on how to address grievances.
Equal treatment includes women empowerment - a top priority for the UK.
Our foreign policy consciously and consistently delivers for women and girls.
He said the UK is proactively supporting democracy and human rights.
At United Nations General Assembly this week, the UK is hosting a series of gender equality related side-events to push for international engagement. In February, the UK appointed its first Special Envoy for Gender Equality Joanna Roper, to spearhead our efforts for a coherent international approach to ensure the rights of women and girls.
Media
Stuart Adam, Head,
Press and Communications
British High Commission, Chanakyapuri
New Delhi 110021
Tel: 44192100; Fax: 24192411

Follow us on Twitter, Facebook, Flickr, Storify, Eventbrite, Blogs, Foursquare, Youtube, Instagram, Snapchat @UKinIndia, Periscope @UKinIndia
Published 15 September 2017