India and UK sign defence research agreement
Under a new agreement Indian and British scientists are to work together to develop cutting-edge technologies for defence and security.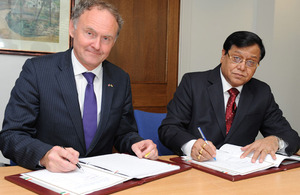 The UK MOD's Chief Scientific Adviser, Professor Sir Mark Welland, has signed a Letter of Arrangement in London with Dr Vijay Kumar Saraswat, Director General of India's Defence Research and Development Organisation (DRDO).
The two countries will pool their world-class science and engineering expertise to work on projects such as unmanned aerial vehicles, advanced explosives, and factors affecting human performance on the battlefield.
With a strong history of mutual co-operation, this important new agreement opens the way for collaboration between scientists from DRDO and the UK's Defence Science and Technology Laboratory (Dstl). A number of projects are planned to begin in coming months focused on the world-leading research facilities in Dstl and DRDO.
Sir Mark thanked Dr Saraswat for his efforts in working towards this milestone in our relationship with India. He said:
I have seen the exceptional dedication, expertise and skill in the Defence Research and Development Organisation. I know that the UK can look forward to a productive and valuable co-operation with our great allies in India for many years to come.
Minister for Defence Equipment, Support and Technology, Peter Luff, also praised the new agreement. He said:
Science and technology is one of the foundations of our bilateral relationship with India. The signing of this valuable agreement further demonstrates the strength of our long-standing alliance.
I'm delighted that scientists from both countries will be able to share their impressive expertise in this field and have no doubt it will lead to even greater innovation in defence and security technology, benefiting both our nations.
In addition to developing new technologies for equipment, scientists will also explore better ways of defending against chemical and biological threats through protection, decontamination and medical countermeasures.
Published 22 September 2011