News story
Independent panel to review death of Daniel Morgan
An independent panel will be established to review the police handling of the Daniel Morgan murder investigation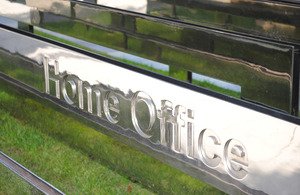 An independent panel will be established to review the police handling of the Daniel Morgan murder investigation, Home Secretary Theresa May announced today (Friday 10 May).
Mr Morgan was killed in south-east London in March 1987 but no one has been successfully prosecuted despite five police investigations.
Two years ago the Metropolitan Police acknowledged its "repeated failure" to tackle corruption within the force which helped protect those responsible for the murder from being brought to justice.
The independent panel will be chaired by Sir Stanley Burnton, a retired Court of Appeal judge. It will review how police corruption affected the handling of the murder inquiry and how Mr Morgan's family were treated by the police and criminal justice system.
Expertise
Home Secretary Theresa May said:
The horrific murder of Daniel Morgan and subsequent investigations were dogged by serious allegations of police corruption.

Several criminal investigations failed to bring those responsible to justice and this independent panel will leave no stone unturned to find out why.

I am delighted Sir Stanley Burnton has accepted the responsibility of chairing the panel. He brings an enormous amount of expertise from a long career at the top of the legal profession.
The terms of reference under which the panel will operate were also announced today.
It will address connections between police officers, private investigators and journalists at the News of the World and other media involved in the case.
Police
The panel will examine documents from a number of government and non-government organisations, including the police and the Crown Prosecution Service.
Sir Stanley Burnton said:
The family of Daniel Morgan, Daniel Morgan himself and the British public have been badly let down by the criminal justice system over 26 years.

I am determined to do everything I can, as chair of the independent panel, to uncover the facts, the circumstances and the truth behind the previous failed investigations.
Work is continuing to appoint other panel members.
Published 10 May 2013