Press release
Independent HS2 Construction Commissioner appointed
An independent commissioner has been appointed to help look into issues arising from the construction of HS2 which is on track to get underway next year.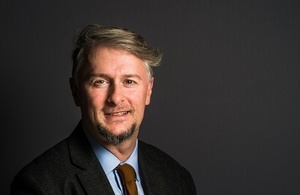 Gareth Epps, who previously held a senior community relations role at Crossrail, will investigate any matters that have not reached a satisfactory conclusion through HS2 Ltd's complaints process.
Mr Epps has been appointed to the role of interim Construction Commissioner by an independent panel. He will provide independent, impartial decisions as well as advice on how to make a complaint.
Having spent nine years at Crossrail developing and implementing community processes and with ten years' experience as a local authority councillor, Mr Epps has extensive experience dealing with public interest issues relating to large infrastructure projects.
He set up and implemented community liaison panel meetings to ensure a regular dialogue between the project and local communities.
His main functions will include:
Ensuring that people affected by HS2 know who the Construction Commissioner is and what they do

Mediating in unresolved disputes between HS2 Ltd and individuals or bodies, including claims under the Small Claims Scheme

Monitoring complaints and providing reports marking trends and providing advice on how to reduce the instance of complaints where possible.
Simon Kirby, HS2 Ltd Chief Executive, said:
We recognise that people will be affected by the construction of the line and are thoroughly committed to ensuring that those people are treated fairly and all practicable measures are taken to minimise disruption.
Improving our approach to affected communities is at the very top of our priority list. We are continuously striving to refine our complaints handling and improve community engagement. The appointment of a Construction Commissioner is a key part of that process.
We have recently made improvements to our complaints procedure and we aim to respond to any complaint in a fair and timely fashion but it is important that people can have their issue considered by an impartial party if they don't feel it's been satisfactorily resolved.
Gareth Epps, Independent Construction Commissioner, said:
I'm looking forward to taking up this post. HS2 will be one of the largest infrastructure projects the UK has ever seen.
Urban and rural communities will see construction and while HS2 Ltd and its contractors will take steps to minimise disruption, it is important that residents and businesses along the route know they can seek fair and independent resolution of complaints if necessary.
Following Royal Assent of the project, an independent body of project stakeholders will determine the full terms of reference and agree on a permanent appointment.
Press and media enquiries
For enquiries during office working hours, Monday to Friday, 9am to 5pm 020 7944 6149
For enquiries outside of these hours and at the weekend 020 7944 0550
The press and media enquiries line is for accredited journalists only
Published 28 July 2016