News story
Increase in limits on payments under employment rights legislation
The increased limits affect: statutory redundancy payments; the basic and compensatory awards for unfair dismissal; …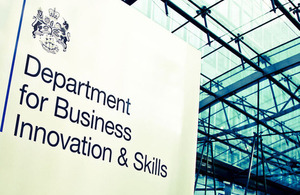 The increased limits affect:
statutory redundancy payments;

the basic and compensatory awards for unfair dismissal;

the limit on guarantee payment made when employees are not provided with work; and

the minimum basic award for unfair dismissal in health and safety and certain other cases.
**To view the table that accompanies this release, please follow the link below:
**http://nds.coi.gov.uk/ImageLibrary/detail.aspx?MediaDetailsID=2804
**
Notes to editors:**
Access this information online at: http://www.opsi.gov.uk/si/si-2010-index or copies are available from the Parliamentary Stationery Office.
Section 34 of the Employment Relations Act 1999 provides that the limits on various awards and payments under employment legislation will be index-linked, i.e. will be varied by Order if the Retail Prices Index (RPI) for September of a year is higher or lower than the index of the previous September. The variation between September 2009 and September 2010 was +4.6% (source: ONS, all items RPI).
Section 36(1) and 36(2) of the Act abolished the previous requirement to conduct annual reviews. A Regulatory Impact Assessment is not required in this instance because the Act provides for indexation according to a pre-determined formula (i.e. linked to the RPI).
The new increases will apply where the event giving rise to the entitlement to compensation occurs on or after 1 February 2011. Limits previously in force (under the Employment Rights (Increase of Limits) Order 2008 - S.I. 2008/3055, The Employment Rights (Revision of Limits ) Order 2009 - SI 2009/ No.3274) and The Work and Families (Increase of Maximum Amount) Order 2009 - S.I. 1903) are preserved by article 4 of the Order in relation to cases where the event was before that date.
The Secretary of State is under a duty both to make the uprating Order and to bring the new limits into force as soon as practicable. The changes being made involve no changes to the structure of the awards and other payments, or to employers'
BIS' online newsroom contains the latest press notices, speeches, as well as video and images for download. It also features an up to date list of BIS press office contacts. See http://www.bis.gov.uk/newsroom for more information.
Notes to Editors
Contact Information
Name BIS Press Office Job Title
Division COI Phone
Fax
Mobile
Email NDS.BIS@coi.gsi.gov.uk
Name Henry Tanner Job Title
Division Department for Business, Innovation and Skills Phone 020 7215 5947 Fax
Mobile
Published 29 December 2010