IN PICTURES: The Army's 2010 Photographic Competition
Prize-winning images of soldiers at work and play have been celebrated as the winners of this year's Army Photographic Competition were announced at the Imperial War Museum in London yesterday, 1 December 2010. Report by Lorraine McBride.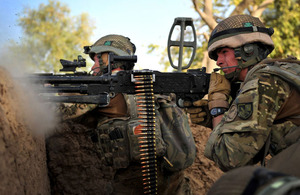 From gritty, vivid impressions of warfare in Afghanistan to sombre 'eulogy' portraits, emotional images of amputees and military farewells to ceremonial shots of Trooping the Colour, and exquisite culinary cooking and Service sport, there was excellence aplenty in this year's competition.
The winning photos showed the Army as seen through soldiers' eyes, with amateur and professional categories, and the winning images didn't disappoint.
The prestigious title of Army Professional Photographer of the Year went to Corporal Gary Kendall, Royal Logistic Corps (RLC), who also picked up a runner-up prize for Professional Best Operational Image.
His intimate image 'Hearts and Minds' depicts a woman soldier, Sergeant McDowell of the Royal Military Police, clutching the hand of a small Afghan boy gripping a treasured lollipop, his face wreathed in smiles.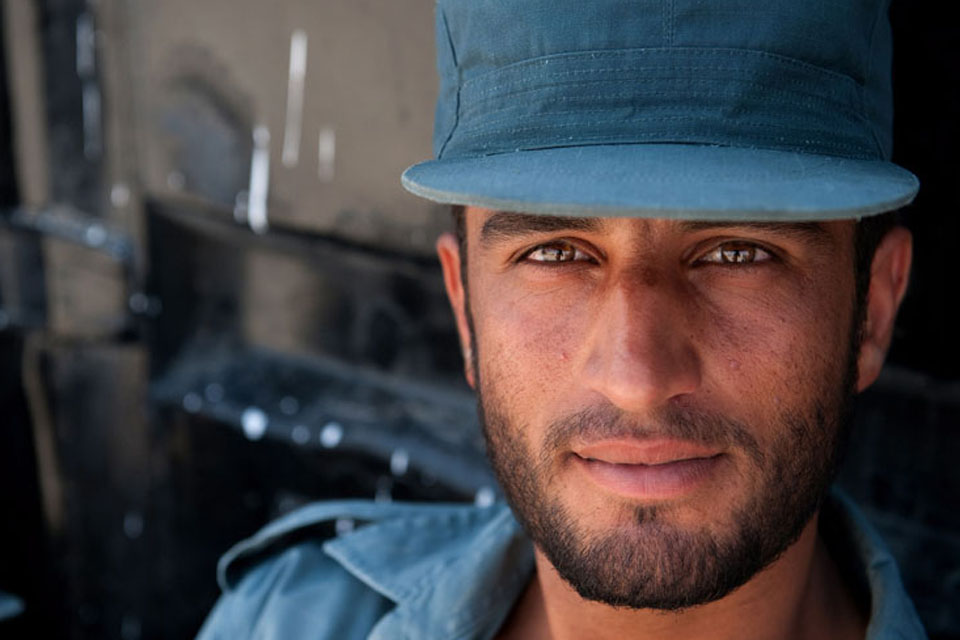 Corporal Kendall's awards are an astonishing achievement given that he only graduated from photography training in April 2010.
His winning portfolio features an arresting portrait of a blue-eyed Afghan policeman graduating from the Helmand Police Training Centre in Lashkar Gah:
He caught my eye so I took a quick portrait, but in Afghanistan people love their pictures being taken and collared me every two seconds," smiled Corporal Kendall.
Other images feature an Afghan tribal elder wheeling his bicycle through the dusty streets of Nad 'Ali and a blind tribal elder with his young grandson, their closeness palpable.
Lieutenant Colonel Simon Jordan RLC, from HQ Land Forces, was runner-up in the amateur category for Best Operational Image for his neatly-titled 'Lynx Effect' capturing a dramatic birds-eye view from inside a cramped Lynx helicopter, shot on Boxing Day 2009. He described his monochrome shot taken in transit between Camp Bastion and Kandahar:
It was a cold sunny day and as I looked out I realised it was an amazing view, so I whipped my camera out.
A veteran of two Afghan tours, Lieutenant Colonel Jordan said:
On my first tour, I thought there are some crazy things going on here, I really need to take some photos, so I bought a camera and started then. The great thing about the Army is that you go to places that are so unusual to most people that the pictures just take themselves.
Video footage was honoured with its own categories and Major Tim Symonds won an award for Best Operational Video depicting life on combat logistic patrols in Afghanistan, delivering supplies across Helmand.
His stunning two-minute footage documented life behind the wheel in an Army convoy slowly snaking through the desert terrain past waterways, set to a techno soundtrack. The cultural contrast is heightened when, out of the blue, the slow journey is interrupted by gunfire.
In contrast to combat chaos, Major Richard Crawford was honoured for his 'Trooping the Colour' shot taken during the Colonel's Review in June, winning the category of Amateur Best Non-Operational Image.
Your eye is drawn to a lone Household Cavalry soldier riding an immaculate ebony horse at the foot of the photograph with a vast backdrop of the parade ground behind the horseman:
I must have taken 150 images and blasted away. Some photos work and some don't," said Major Crawford. "I'm really chuffed.
Staff Sergeant John Hughes was named Amateur Photographer of the Year for his portfolio of six images taken on an exercise in Germany. He was inspired to take up photography after a posting to Northern Ireland in 1991, when his passion spiralled. His gritty close-up portrait of exhausted soldier Sergeant Richie Richardson on exercise speaks volumes:
You see photos of Vietnam veterans coming out of the jungle and his eyes drew me in," said SSgt Hughes. "He looked so tired, as if he had really been through the mill.
Professional photographer Sergeant Rupert Frere was honoured twice, including for 'Bye Bye Daddy', capturing a sad-faced lad nestling into his soldier dad (from 16 Air Assault Brigade) moments before he departed for Afghanistan.
The professional category was won by Sergeant Steve Wood for his image 'Amputee', taken at a homecoming parade in Winchester.
Army driver Bombardier Peter Linley was a runner-up in the Amateur Best Non-Operational Image category with his shot of three 105mm light guns at the 'Pageant of Power', a motor show at Cholmondeley Castle, Cheshire.
Bombardier Linley only took up photography six months ago, when he was tasked by boss Colonel Alex Forbes to replace the dated, tired images lining their unit's corridors:
I knew with the lighting, fireworks and colours from the guns firing, and suddenly there was a massive BOOM!" recalled Bombardier Linley. "It's not really sunk in yet, I feel like I've won the lottery," he added.
Mark Whitmore, Director of Collections at the Imperial War Museum, said:
Great photographs don't just take themselves. [Combat] is a very challenging subject but it really does seem to bring out the best in photographers.
The museum boasts a world-class photographic collection that is a treasure trove for historians and researchers.
Prizes were awarded by the Chief of the General Staff, General Sir Peter Wall, who said:
There are some outstanding images that have taken skill and in some cases courage to capture and I congratulate them all.
Pressed later to single out an image that he admired, he pointed out the 'eulogy' portrait of Sergeant Craig Anderson, 'Craigy', by Sergeant Mike Fletcher at his studio in Lydd, Kent. Sgt Fletcher won Best Non-Operational Professional Image and Best Overall Image. General Wall said:
It has recorded very poignantly what might have been and it is a fantastic image which would capture anyone's imagination.
Sgt Fletcher said:
I was taking portraits of guys in case the worst happened, but I also wanted to take less formal shots that they could give their wives. Infantry soldiers love going to Afghanistan and 'Craigy' was one of them.
It's a real privilege because Army photographers are a talented bunch and it's a tough competition, so it's an honour.
General Wall said afterwards:
We see a lot of operational images which are very telling and convey tension and stress of the moment. Others strike a chord of our soldiers interacting with Afghan people.
It goes deeper than 'hearts and minds', it is about putting Afghan society back on its feet in a coherent way with proper governance. Images of shuras, policemen and village elders really capture what this campaign is all about, maybe more so than operational images. I think we need to remind ourselves that the Army is about a multiplicity of activities within a way of life. It is hugely impressive.
Published 2 December 2010