IN PICTURES: Royal Navy takes key role in international minehunting exercise
Four British warships and more than 400 sailors and Royal Marines have played a key role in one of the biggest minehunting exercises ever staged in the Middle East.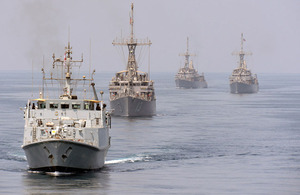 IMCMEX12 - International Mine Countermeasures Exercise 2012 - was designed to test the abilities of 30 nations to work together and deal with the threat of mines blocking some of the most important sea lanes in the world.
Minehunters HMS Shoreham and Atherstone, their support ship Royal Fleet Auxiliary vessel Cardigan Bay, all based in Bahrain, plus new destroyer HMS Diamond, as well as mine warfare battle staff, made up the UK's input to the exercise which saw around 3,000 sailors from 30 nations, including the USA, Japan, New Zealand, Yemen, France, Italy, Jordan, Australia, Canada and Norway, work together across around 1,000 miles (1,600km) of ocean.
Given the scale of the 11-day exercise and the many nations (and languages) involved, organisers laid on a mini-Olympiad to allow the different nationalities to get to know each other.
Despite having the smallest ship's company (around 45) in the tournament, Atherstone walked away with the inaugural IMCMEX trophy having proved overall masters of swimming, football, volleyball and basketball.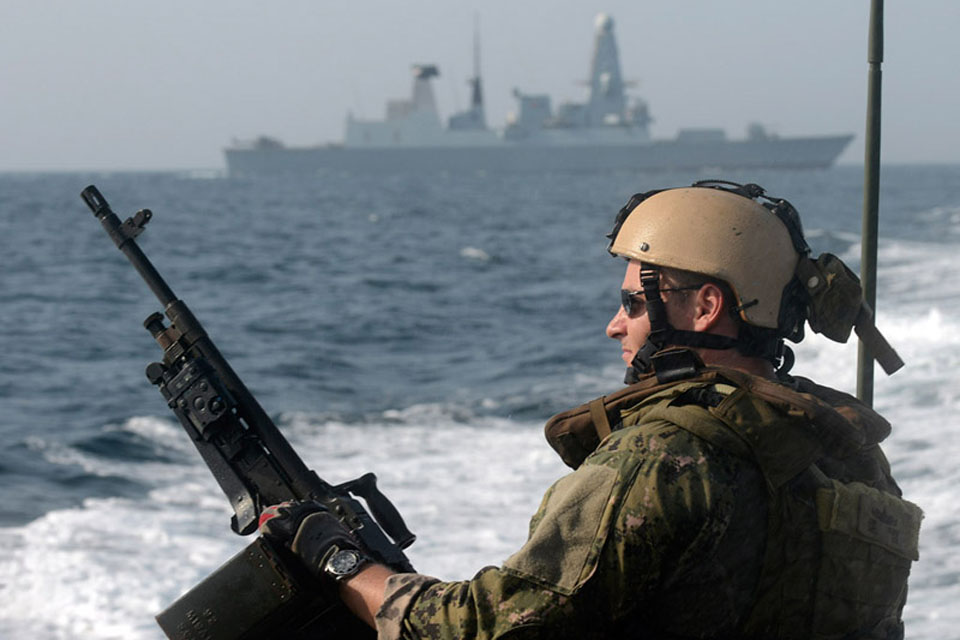 While sailors were demonstrating their sporting prowess, senior officers were locked in three days of discussions about the latest technology in mines, including the threats posed by improvised explosive devices (or homemade mines) and the latest technology and techniques in dealing with such threats.
Once at sea, part of the force was escorted on its way by Portsmouth-based destroyer HMS Diamond, currently in the second half of her maiden deployment:
The scale of this mine countermeasures exercise shows the wide-scale commitment of nations to supporting maritime security and keeping the vital sea lanes open for trade," said Diamond's Commanding Officer Commander Ian Clarke.
Each day 17 million barrels of oil pass through the narrows between Iran and the Arabian Peninsula, while three to four million barrels are moved through the Bab-el-Mandeb Strait, the gateway to the Red Sea.
In a typical week, more than 500 ships pass through Hormuz - three in every five of them energy carriers (including liquefied natural gas which is used in the UK) - and those departing the Gulf must use a two-mile-wide (3.2km) outbound traffic lane to reach the open waters of the Arabian Sea and beyond.
In view of the importance of these choke points, the IMCMEX was divided into three areas: one off Bahrain, another in the Gulf of Oman, and the third near the Bab-el-Mandeb Strait.
Diamond 'dipped in and out' of the exercise, letting the mine warfare experts knuckle down to a mix of task group manoeuvres, minehunting operations, helicopter mine countermeasures missions (courtesy of the Americans), and international dive teams working together.
The latter was particularly evident aboard HMS Shoreham, which hosted divers from New Zealand and the USA; they not only practised the art of mine disposal but also the worst-case scenario - a diving casualty.
Shoreham has a two-man recompression chamber capable of recreating depths of up to 80m (262ft) for divers suffering 'the bends' (decompression sickness).
Using sea boats, the British, American and Kiwi divers demonstrated the swift reactions needed to get a stricken diver back to the ship before they carried out the main part of the exercise:
In any diving emergency swift reactions are essential to get the injured diver into a recompression chamber, regardless of which nation they are from," said Shoreham's Able Seaman (Diver) Craig Hay.
It's again proven our ability to work with other navies to quickly provide assistance to a casualty if required.
Senior Chief Sean Smith from the US Navy's Explosive Ordnance Disposal Team added:
It is great to be diving with our international partners - it's confidence-building to become familiar with their equipment too.
The New Zealanders brought a specialist team with robot submarines (officially underwater unmanned vehicles or UUVs) to the exercise to demonstrate how much time they could save dive teams hunting for mines:
They really can save the divers a lot of effort, especially in the search phases, and focus their activity to where it is really needed," explained Chief Combat System Specialist Quinn Harris of the Royal New Zealand Navy (RNZN).
This helps the team to be more efficient in executing their task. The ships, UUVs and dive teams present force commanders with a fantastic combined capability.
Having previously worked in Royal Navy diving teams during a six-month exchange programme, Chief Diver Rangi Ehu RNZN enjoyed the opportunity to again work with other teams:
Being part of a small team, it is good to find that you are operating on a par with the larger entities," he said. "Shoreham's team looked after us well and the assured, professional nature of these three teams shows the benefit of good equipment and training together.
His words are echoed by the Royal Navy's senior officer in the Gulf region, Commodore Simon Ancona, United Kingdom Maritime Component Commander:
Training alongside international partners is crucial to the success of this type of naval activity," he said.
Exercises like this really go a long way in bringing us together; they enhance co-operation and hone maritime capabilities in support of long-term regional stability and our ability to work together.
Vice Admiral John Miller, the Commander of US Naval Forces Central Command - in charge of the US Navy's operations in the Middle East - added:
I couldn't be happier with how the international forces came together to make this exercise a valuable experience for all.
Published 2 October 2012