IN PICTURES: Remembrance 2011
Armistice Day and Remembrance Sunday have been marked this year by HM Forces in Afghanistan, on board Royal Navy ships, in Army barracks and at RAF stations across the UK and around the world.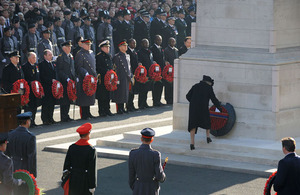 Men and women from across the Army, Navy and Royal Air Force serving at Lashkar Gah in Helmand province, where the headquarters of Task Force Helmand are based, fell silent to mark Remembrance Sunday at 1100hrs.
While in London over 7,500 veterans and 1,500 civilians marched past the Cenotaph on Whitehall where the official wreath-laying ceremony was led by Her Majesty The Queen and members of the Royal Family along with members of the Government including Prime Minister David Cameron and Defence Secretary Philip Hammond.
Other Remembrance Sunday ceremonies that took place in Afghanistan included one at Kandahar Airfield where hundreds of UK troops fell silent for two minutes at the Allied War Memorial at the airfield along with a large contingent of coalition troops, including Americans and Canadians.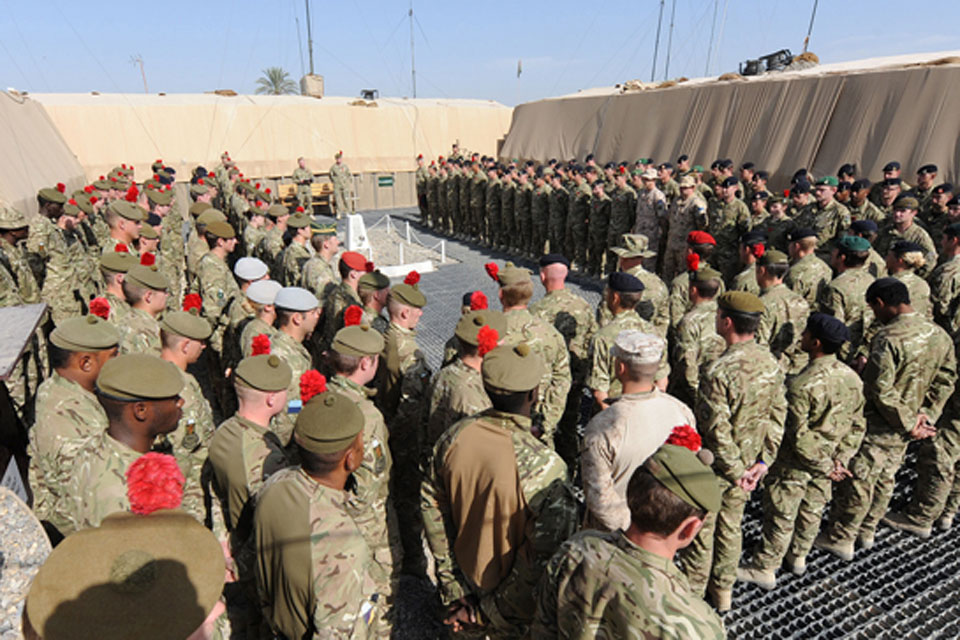 Commanding Officer of 904 Expeditionary Air Wing, Group Captain Simon Edwards, laid a wreath at the memorial. He said:
Today of all days we remember those who have gone before us, who we knew well and those we did not. We are reminded how much of a privilege it is to follow in their footsteps.
The ceremony was led by Padre (Flight Lieutenant) Ian Brown who said:
It is so important to continue to remember the fallen, especially out here. Not only remembering both world wars but also remembering those that have lost their lives in recent conflicts.
On Saturday 12 November, the day between Armistice Day and Remembrance Sunday, in the first joint parade of its kind in Afghanistan, at Camp Shorabak, near Camp Bastion, troops from both the Afghan National Army and the UK's 2nd Battalion The Rifles (2 RIFLES) stood shoulder-to-shoulder in a shared mark of respect for those who have given their lives in conflict.
2 RIFLES forms the Brigade Advisory Group, responsible for training and mentoring the Afghan National Army (ANA).
Tributes were led by Brigadier General Sherin Shah, Commander of the ANA's 3/215 Brigade, and Brigadier Patrick Sanders, Commander of Task Force Helmand and 20th Armoured Brigade. Both laid wreaths during the parade on plinths covered with the respective national flags.
A roll of honour was read recalling British and Afghan personnel and interpreters who had lost their lives during the past 12 months in Afghanistan.
Members of the Royal Navy also paid their respects to the fallen at various locations across the world.
The ship's company of Type 23 frigate HMS Argyll, on patrol in the Gulf, remembered the fallen in a sombre ceremony on the flight deck of the ship. The service conducted at sea featured readings by Royal Navy, British Army and Royal Marines personnel and a roll of honour of all the Service personnel who have lost their lives in the last 12 months.
After the service, the Commanding Officer of HMS Argyll, Commander Paul Stroude, said:
Remembrance services always stir powerful emotions for those that serve in HM Forces; it reminds us all of the sacrifice not only of our brethren but of our loved ones back home too.
I can think of no greater honour than to lead a remembrance service, but being at sea, whilst on active operations, added a poignant edge to what is an already solemn occasion.
In the South Atlantic Ocean, thousands of miles from the UK, the crew of the Type 23 frigate HMS Montrose, who are promoting British interests in the South Atlantic Ocean and patrolling the five British Overseas Territories in the region, also took part in a service of remembrance on the ship's flight deck.
Marking the ship's close links with Scotland (Montrose is a small port in Angus on the east coast of Scotland), a number of the ship's company were wearing Poppyscotland poppies.
In a moving service led by the ship's padre, Chaplain Andrew Allcock, the ship's company formed up on the flight deck in the stifling heat to pay their respects and remember the fallen from both world wars and all subsequent conflicts.
Speaking after the service, the Commanding Officer of HMS Montrose, Commander Jonathan Lett, said:
Although we are far from home, it is vitally important for my ship's company to have the opportunity to join those back in the United Kingdom and across the world in marking Remembrance Sunday.
In fact, being deployed on operations adds an element of poignancy, providing a direct link to those who have gone before us and allowing us to remember those who have made the ultimate sacrifice.
The Royal Navy also played a prominent role along with other members of the Armed Forces and civic personnel in the annual Remembrance Sunday service on Plymouth Hoe, held on the southern side of the Royal Naval Memorial (near the Hoe promenade).
The Lord Mayor laid a wreath on behalf of the people of Plymouth, followed by Rear Admiral Clive Johnstone from Flag Officer Sea Training and other representatives of the Armed Forces. Rear Admiral Johnstone said:
At this very special time of remembrance I find myself caught between two emotions. First and most powerful is the deepest respect and reverence of those who have served and have made the ultimate sacrifice. Indeed, there is no word that captures the impact of this recognition and the thanks for those who have laid their lives for their country and the endeavour that it is set upon.
I do have a second emotion, and this is the thanks for our current servicemen and servicewomen, especially those of the Naval Service, who are working under such pressure across the world looking after our security and our interests. They stand very proudly in the shadow of those who have gone before.
Army garrisons holding Remembrance Sunday ceremonies included those in Gibraltar and Colchester.
As well as a service in the Gibraltar Barracks, Superintendent Rob Allen of the Gibraltar Defence Police (GDP) laid a wreath on behalf of Headquarters British Forces at St Andrew's Church in Tangier, Morocco, yesterday.
The churchyard at St Andrew's contains thirteen Commonwealth War Graves, including that of Terence Henning, a member of the (then) Gibraltar Special Police (GSP):
It is important to the GDP that we mark the sacrifice of the four GSP men who died on duty in the Second World War," Superintendent Allen said. "Clearly, from the many comments we have received, it is also important to the British community of Tangier that we continue to support Remembrance Day here.
Troops from 16 Air Assault Brigade joined communities across Essex and Suffolk to mark Remembrance Sunday with a parade and service at Colchester's Merville Barracks.
Representatives of all brigade units, and those that were attached to it for the recent tour of Afghanistan, joined bereaved families to observe the 1100hrs two-minute silence.
During the poignant service the names of the 57 soldiers killed on operations since the brigade was formed in 1999 were read out, a choir of Fijian soldiers sang a traditional lament, and Apache attack helicopters flew past.
A short ceremony was held at 16 Air Assault Brigade's Memorial Garden before the main parade for bereaved families to lay wreaths and pay private tribute to their relatives.
The brigade's senior chaplain, Reverend Tim Cole, said:
Remembrance Sunday is an occasion when the nation stands together to reflect on the sacrifices being made both in the past and in the present, especially for the members of 16 Air Assault Brigade who have recently served in Afghanistan.
For many of the soldiers here today it is particularly poignant, because the names that have been read out are those of people who were their friends and comrades. That sense of loss we share links us to all those we didn't know who have given their lives in the service of their country. We will remember them.
RAF stations up and down the country also held Remembrance Sunday services including at RAF Shawbury whose personnel took a major role in the remembrance commemorations across Shropshire. The unit provided personnel for the Shrewsbury service in St Chad's Church and the associated parade through the town.
And on Armistice Day on Friday, RAF personnel still located in Gioia del Colle air base in Italy, from where operations over Libya were conducted, stopped work to remember their fallen comrades in a small, yet poignant ceremony.
Led by Reverend Al Nicoll, the remaining personnel from 906 Expeditionary Air Wing joined together with their Italian hosts to remember all who have fallen, past and present. 906 Expeditionary Air Wing's outgoing Commanding Officer, Group Captain Peter Squires, said:
It is fitting that our parting act from Operation ELLAMY is to remember our comrades who have made the greatest sacrifice. For all military personnel remembrance is an integral part of life and, whether at home or on deployed operations, personnel will be paying tribute to those that have given their lives serving their country, and 906 Expeditionary Air Wing is no different. It is an honour that our final act will be to commemorate their memory.
Published 14 November 2011