IN PICTURES: Officer cadets in final training exercise
Officer cadets from the Royal Military Academy Sandhurst (RMAS) finished a ten-day training exercise in Dumfries and Galloway on Saturday, 23 July 2011; the culmination of a 44-week training course.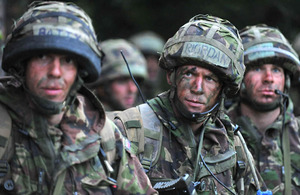 Exercise Dynamic Victory saw officer cadets put the sum of their Sandhurst training into practice. Based on the current operating environment, the exercise was broken down into three phases: rural operations, urban operations, and live-firing.
The rural phase, which lasted two days, took place in the Galloway Forest.
The urban phase also lasted two days and took place in the old Dalbeattie ammunition factory, with the live firing element taking place at Kirkcudbright ranges.
The exercise culminated in a battle group attack at the ammunition factory after which the officer cadets were permitted to put on the headgear of their chosen Corps/Regiments for the first time; replacing the RMAS berets they had worn for the past year.
There were 270 senior-term officer cadets taking part in the exercise, including 27 women, and 23 from overseas.
The exercise also included 33 cadets from the US Academy at West Point, who were embedded with the Sandhurst officer cadets.
Officer cadet Nick Boni, aged 23, from Edinburgh, said:
The Company-level attack in the Galloway Forest was both physically challenging and enjoyable at the same time.
It was a wonderful feeling today that, for the first time, I was able to wear my Tam O'Shanter of the Royal Regiment of Scotland.
The cadets have now returned to Sandhurst to prepare for their commissioning parade.
Published 25 July 2011