IN PICTURES: Navy helicopters 'bag' Afghan drugs
The Royal Navy's airborne surveillance and control helicopters in recent months have helped seize and destroy over five tons of Taliban drugs with a 'street value' in excess of £6m.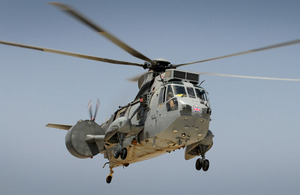 As well as the drugs, the crews of 854 and 857 Naval Air Squadrons have contributed to the capture of 15 suspected insurgents, the recovery of over six tons of explosives and hundreds of weapons and radios.
Affectionately known as the 'Baggers', the Sea King Airborne Surveillance and Control (SKASaC) Mk7 helicopter crews utilise the aircraft's cutting-edge surveillance radar to track suspicious activity on the ground and feed this vital information to other aircraft and a wide range of ground units.
See the Gallery at Related Links for some photos of the results of the Baggers work.
The regular interception of narcotics traffic has a real effect on the insurgents, by denying both a source of income and the freedom to move around the area, all of which helps towards improving the safety and security of the Afghan population.
Most recently, thanks to information supplied by the Navy helicopters, insurgents in Helmand province suffered a blow to their finance network following the seizure of 500kg of wet opium and 40kg of dry opium, and the arrest and detention of two insurgents.
The Commanding Officer of 854 Naval Air Squadron, Lieutenant Commander Paul Harrison, highlighted the demand for the Baggers, saying:
Both the US Marine Corps and British forces continue to demand our capabilities to strangle insurgent supply routes. The SKASaC continues to surprise everyone, including the most experienced operators, with its long range detections providing surveillance over massive areas of Afghanistan.
Published 18 August 2011