IN PICTURES: Knockout images celebrated at Army Photographic Competition 2012
Outstanding photography from Afghanistan and Army life has been celebrated at the annual Army Photographic Competition.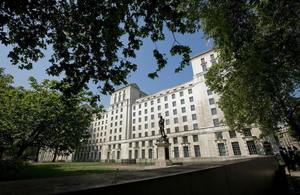 Army photographers deploy as soldiers with rifle and camera, taking the same risks as other infantrymen but also giving the public a unique, up-close view of the realities of conflict. Away from operations they capture the day-to-day events and high points of Army life, from parades to sporting achievements.
Amateur photographers, who fit their hobby around their day job of deployments and training, are also recognised for the high quality and creativity of their work.
See Related Links for a gallery of winning images from the Army Photographic Competition 2012.
Chief of the General Staff, General Sir Peter Wall, handed out prizes at the Imperial War Museum London, which holds an archive of Army photographs from the Second World War to the present day.
Winning entries on display at the prize-giving event included amateur and professional categories for best operational image, best portrait and best sport and adventure training image.
Army Professional Photographer of the Year, Staff Sergeant Mark Nesbit, said:
Having spent most of the last 12 months working with video, my stills portfolio isn't as extensive as I would like but my camera and 50mm manual lens went everywhere with me looking for the opportunist shot. I am very happy to have been recognised for my photographic work.
Amateur Photographer of the Year Captain Dave Scammell's interest in photography started when he deployed to Iraq in 2003 and found himself one of the few soldiers with a camera. He said:
Back then I did not really know what I was doing with the camera, it was only a little compact camera and the settings were always on automatic, but I knew what I wanted to portray in the images, it was just working out how.

This year when I heard I had won I was completely shocked as I really did not expect to win anything, but to win three out of four categories is truly unbelievable.
Categories and winners in the 2012 Army Photographic Competition are:
Best Overall Image
Staff Sergeant Mark Nesbit
Army Professional Non-Operational Video
Sergeant Gary Kendall
Army Professional Operational Video
Sergeant Tom Robinson
Army Multimedia
Corporal Andy Reddy
Army Professional Photographer of the Year
Staff Sergeant Mark Nesbit
**Army Professional Portrait
**Sergeant Russ Nolan
Army Professional Sport/Adventure Training
Corporal Paul Morrison
Army Professional Operational Image
Corporal Steve Blake
Army Amateur Operational Image
Captain Dave Scammell
**Army Amateur Sport/Adventure Training
**Warrant Officer Class 1 Smith
**Army Amateur Portrait
**Captain Dave Scammell
Army Amateur Photographer of the Year
Captain Dave Scammell
Published 10 October 2012