IN PICTURES: International soldiers take on NATO's toughest patrolling test
Soldiers from across the world have descended on the Welsh Black Mountains to face up to a gruelling two-day patrolling exercise.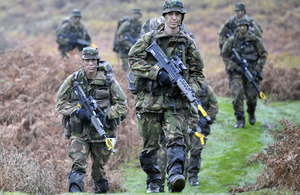 The annual event, run by 160 (Wales) Brigade, is both physically and mentally demanding and is a highlight in the British Army's training calendar.
Internationally, it is regarded as one of the toughest tests the modern-day soldier can face and some foreign entrants have to claim the right to take part by winning through their own domestic challenge.
This year's Exercise Cambrian Patrol saw teams from Estonia, Switzerland and Finland take part for the first time, joining troops from other countries such as Pakistan, India, the United States and Regular and Territorial Army soldiers from the British Army.
In total, 15 international teams made up the total of 90 taking part.
Team patrol commanders are then given orders for onward briefing to members of their patrol. Patrols are then taken to a number of drop-off points in the hills.
Private Trent Lambert, who serves with 2nd Battalion The Royal Australian Regiment, is from Manjimup in the south western coast of Australia.
Speaking at a location eight miles (13km) north east of Llandrindod Wells, at the tip of Radnor Forest, mid-Wales, just prior to setting off on the patrol, Trent said his team had to win through a domestic competition for the right to take part Cambrian:
The competition back home is called the Duke of Gloucester Cup and involves the infantry battalions from the Australian Army," said for former outdoor education instructor.
It's a test of endurance and military skills - a sort of mini Cambrian. Taking part in this exercise in Wales is prestigious because we had to win that right to participate. It will be a huge achievement for us to take back a medal because we know how tough the next 48 hours will be.
Pte Trent continued:
We've spent a week in the UK and have been hosted by the Coldstream Guards. Some of the soldiers in that unit have experience of Cambrian and they've told us what to expect.
One of the toughest things may probably be the weather because we're used to the more tropical, warmer side of things. But this is a challenge we're going to take seriously and we want to do well. That's why I joined the Army, to take on challenges.
Split into seven phases, the teams then have to march a mind-and-muscle sapping 55km carrying full personal kit and equipment, weighing in at some 60lbs (27kg), on a two-day patrolling mission.
Navigating both by day and night, the patrols face many testing and specialist challenges, including observation and reconnaissance of enemy forces, cold river crossings in full kit without access to boats, first-aid and defensive shooting under attack.
At the completion of their patrol, each team faces a comprehensive debriefing session on their mission.
Military skills, stamina and dedication are constantly evaluated during the patrol and marked with a system of points. Teams that successfully complete their patrol are awarded a gold, silver or bronze medal or certificate of merit, depending on the total number of points they have gained.
Warrant Officer Class 1 Brian Pratt, who organises the event on behalf of 160 (Wales) Brigade, said:
This is the world cup of patrolling. For more than 50 years the reputation of Cambrian Patrol has grown ever stronger and that is reflected in the consistent number of teams we get applying to take part.
By the end of the two days you know you have been tested thoroughly and finishing well in this event gives you a real prestige.
Published 26 October 2012