IN PICTURES: Hundreds of military chefs square up in battle of the dishes
The Army and the RAF have proved their appetite for success by jointly winning one of the military's biggest culinary challenges.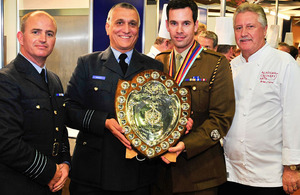 Temperatures rose as teams from across the services battled it out in a series of heats during Exercise Joint Caterer which was held at Sandown Park in Surrey last week.
The three-day competition is designed to showcase the professionalism and unique skills of catering staff across the forces. On the final day a winner is declared when points awarded during the three-day event are tallied up.
Challenges include preparing and cooking a three course meal for fine dining to creating innovative and interesting dishes out of ingredients found only in ration packs.
Minister for Defence Equipment, Support and Technology, Philip Dunne, said:
The quality of food served to our forces on the front line plays a vital role in ensuring that both energy and morale is kept high. Military chefs are expected to deliver top quality meals in often very challenging conditions.
This competition helps hone the talents of these already skilled men and women so that they can deliver the best possible meals to our Armed Forces.
Group Captain Andy Killey, Head of Food Services at Defence, Equipment and Support, said:
Food is regarded as much more than just fuel for troops and often a warm and hearty meal at the end of a challenging day is the one thing that the troops look forward to on operations. Not only does it keep them healthy in body but in mind too and this is why our military chefs are trained to be the best.
Each Service presents a cold buffet and undertakes a Parade Du Chef (three course meal for 64 covers) on their allocated day.
The Naval Service Team were worthy runners up and enjoyed many successes during the competition, securing two gold, seven silver and 10 bronze medals as well as three Best in Class and 10 merits.
There were around 60 catering industry exhibitors at the event, many of whom are suppliers of food or equipment to HM Armed Forces.
Published 29 October 2012