IN PICTURES: Household Cavalry fit for 2012 ceremonial duties
The Household Cavalry Mounted Regiment has passed its annual inspection and been declared fit to perform in this year's state ceremonial events.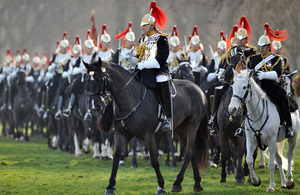 The annual inspection, which took place in London's Hyde Park yesterday, 29 March 2012, sees cavalrymen and horses dressed in full ceremonial state kit performing precise manoeuvres similar to those required for the Trooping the Colour ceremony.
The inspection was carried out by the Major General Commanding London District and the Household Division, Major General George Norton.
2012 will be one of the Regiment's busiest years, with commitments including the Queen's Diamond Jubilee and the London Olympic and Paralympic Games.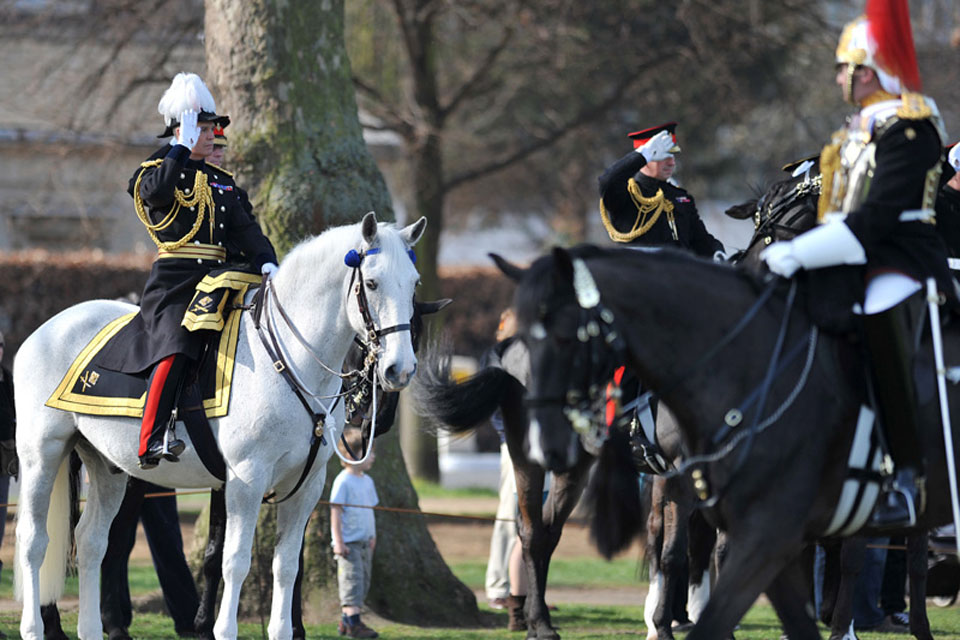 Commander Household Cavalry, Colonel Stuart Cowan, also oversaw the parade:
The Major General's inspection went really well," he said.
This year is a testing time for the Household Cavalry Mounted Regiment - we have some big ceremonial events to deliver: the State Opening of Parliament, the Diamond Jubilee, Trooping the Colour, and then the Olympics; and we've only had a few months to prepare to get everyone up to standard, so they've done a really good job.
There were 160 horses on parade for the inspection and some of them have never been on a parade before, so this was a big achievement to bring it all together.
We have 20 new horses, and they have had to get used to being ridden in state kit, which is a real challenge for them. State Ceremonial kit is very heavy, weighing somewhere in the region of five stone [32kg] just for the uniforms, which are the same as that worn on a heavy cavalry charge in the Battle of Balaclava.
Members of the Household Cavalry Mounted Regiment are dual roled soldiers and serve on front line operations as well as performing ceremonial duties. All those soldiers on parade yesterday have recently come back from duties in Afghanistan or will be deploying on operations early next year:
Both sides of what we do as cavalrymen is very important to us," said Colonel Cowan. "We feel honoured and delighted that we will be riding in the procession to mark Her Majesty's 60-year reign.
Captain Alex Owen of the Household Cavalry Mounted Regiment said:
It's brilliant to see how well everyone has performed today. We've had to work tremendously hard to get to this point. A few months ago the horses came in from their winter holidays looking like they'd been on a gap year with dreadlocked manes and coats matted with mud.
It's hard to believe that they are the same animals as the immaculately turned out horses you see today.
The 20 new horses on parade were the M-Reg remount horses, who were officially named today. Their names were suggested and voted for by the public for the first time in the unit's history.
Among the top names were Middleham, named after the Yorkshire racing town whose entire population voted in the poll, Musa Qal'ah, named after the town in Afghanistan which the Household Cavalry captured and held in fierce fighting before handing over to the Americans, and Magpie, in memory of Trooper James Munday who was killed in Afghanistan on Operation HERRICK 8 on 15 October 2008, whose nickname was Magpie.
He was an accomplished rider and took part in the Regiment's prestigious Musical Ride.
Majestic and Majesty are also among those names chosen to mark the Diamond Jubilee this year. The iconic image of Household Cavalry Mounted Regiment soldiers and horses escorting the Sovereign represent the very best of British pageantry.
But that glamour is hard won - an astonishing amount of man hours, professional training, skill, discipline and physical effort is required to produce the immaculate results necessary for an event as unique and prestigious as the Diamond Jubilee.
It takes somewhere in the region of 14 hours to prepare the uniforms and equipment required for a parade such as that held today, and weeks of riding practice. The effort is just part of the challenges facing the cavalrymen tasked with delivering a summer of ceremonial in a year when London finds itself firmly at the focus of global attention.
Published 30 March 2012