IN PICTURES: 5 RIFLES win 'Countess of Wessex Cup'
Armed Forces personnel from all three Services have pitted themselves against each other in the annual 'Countess of Wessex Cup' which this year took place in Paderborn, northern Germany.
Teams of eight personnel, consisting of airmen from RAF Wittering, sailors from HMS Daring and soldiers from hosts 5th Battalion The Rifles (5 RIFLES), all faced a mixture of physical and mental challenges which saw some pushing the limits of their abilities.
The competing servicemen were observed as they battled against each other by the Cup's namesake, Her Royal Highness The Countess of Wessex.
Major Andy Husband, Officer Commanding B Company, 5 RIFLES, explained:
This is an annual event between the three different Service units. The Countess of Wessex is Royal Colonel of 5 RIFLES, Honorary Air Commodore of RAF Wittering and sponsor of HMS Daring and this annual event brings us all together. The host unit chooses the challenges and of course they tend to be slightly weighted towards their particular Arm.
The physical challenge saw the teams take part in a 'forced march' across the Goldgrund training area not once, but twice. The challenge of the first crossing was to retrieve a casualty under fire and the second was to provide a resupply to a Warrior armoured fighting vehicle.
Being 'under fire' in training is not new to any of the competitors, but there was one aspect that was very different, as a previous winner, Warrant Officer Class 2 Simon Day from HMS Daring, pointed out:
Last year it was more based around our diving school at HMS Excellent, Portsmouth. It was a similar sort of thing, running around with obstacles and carrying stretchers and tyres, with swimming up and down the torpedo lake.
Today has been hard as we are not used to carrying the extra weight in the backpack. It's not something we do in our normal job.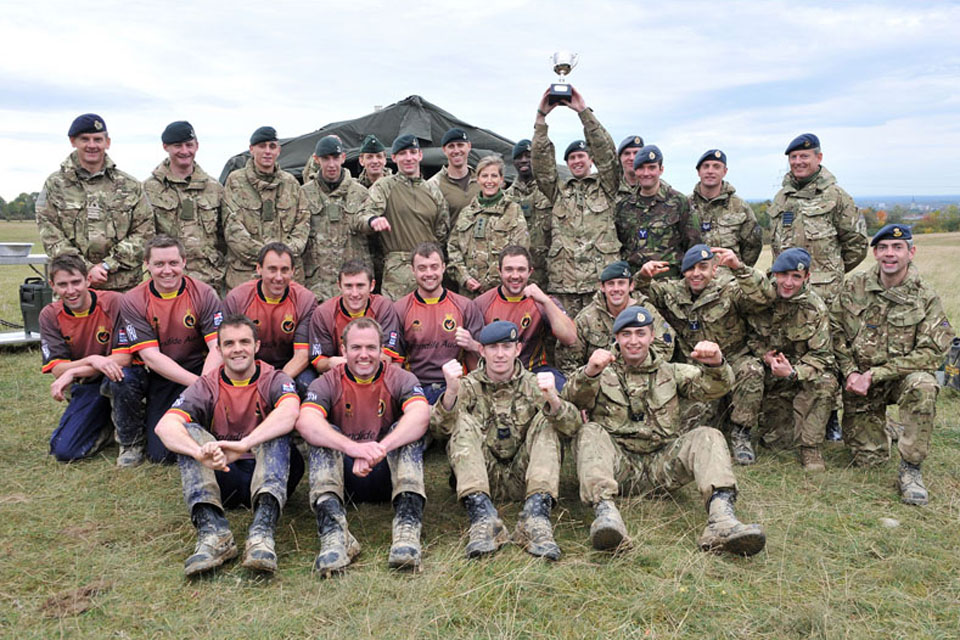 Leading Seaman James Watt, HMS Daring, described how he felt at the end of the first challenge whilst recovering covered in mud:
I wasn't on the event last year, so I missed out, but I wanted to do it," he said. "As you can see it is hard work! This is totally different to being on a ship. I don't envy these guys [the infantry] at all. Fair play to them.
In the second event, the teams were required to put up a nine-foot (2.7m) by nine-foot Army tent, but of course there was a twist - seven members of the team were blindfolded with only the most junior being able to see and give real directions.
Rifleman James Hutchinson, who has only been with 5 RIFLES for one month, said:
I am quite fit but the hill right at the end of the first challenge was hard. I spoke to the Countess as we were putting up the tent and she asked how we were doing. I think we did all right. It's been good; I've really enjoyed it.
The final event saw four members of each team prepare a dish for their royal guest using only the equipment an Army chef would have in the field. The surprise ingredients led to a variety of menus:
Cooking is not one of my hobbies; neither is running around with heavy weight," said Sergeant Wayne Thompson, a computer technician from RAF Wittering.
We've got a menu of chicken with garlic and cheese, potatoes, but I am sure there is a more technical name for what we have done with them, and some pasta with chicken and paprika.
See Related News for more images from the Countess of Wessex Cup.
Whilst for many this was the first time that they had taken part in the Countess of Wessex Cup, Engineering Technician (Weapon Engineering) Alastair McLeod is an old hand, this being his third time, having taken part every year since the challenge began in 2010.
He explained how the challenge has evolved over the years:
None of our training comes close to this. We do some weapons training but nothing with that much weight across that much distance. I have done all three Service challenges now and this one has been cruel, really cruel!
With 5 RIFLES winning each challenge and being declared the overall winners of this year's Countess of Wessex Cup, you might wonder if the events were 'loaded'.
However, Major Husband was quick to point out that it was a 'blind tasting' of the various menus and that the other events were judged on time or output, but would not be drawn on the decision process for carrying weight despite it clearly being an advantage for the infantry soldiers.
Her Royal Highness expressed her admiration for all those who took part:
I am very impressed with the standard and so none of you have any excuses for girlfriends, wives or anybody else to say that you can't cook or won't cook, because you can!
Whether you volunteered or were volunteered it's been wonderful. Thank you very much for taking part.
Looking forward to the next Countess of Wessex Cup was Squadron Leader Emma Watkins, Officer Commanding Force Development Squadron, RAF Wittering, who, whilst in a supportive role to the team this year, was taking notes for the next challenge as it will be held at her base.
She said:
We now have two years to plan the next event as operational commitments next year will preclude us getting together. However, I can already see how we will try and make it more 'air' related when everyone comes to RAF Wittering.
And with the Physical Training Instructors, the Force Protection Training Flight, Learning Forces Flight and Training and Development Flight under her command, the teams would be wise to start their training now.
Published 18 October 2012