IN PICTURES: 2011's RAF Photographic Competition
The best of Royal Air Force photography has been celebrated today at the annual RAF Photographic Awards ceremony held at the RAF Club in Piccadilly, London.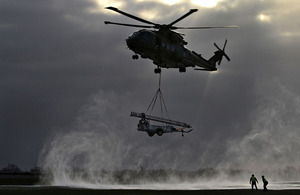 For 22 years the RAF has held a photographic competition in recognition of the skills and high standard of work of their trained photographers whose job is to highlight that the RAF remains a global force on operations around the world.
This year the winning photographs illustrate the RAF's mission-critical role in Libya alongside enduring commitments to operations in Afghanistan and the Falkland Islands as well as protecting the UK at home.
The entries also capture the work of those at the less glamorous but equally critical end: those keeping the airbridge up and running, keeping our forces supplied; the lifesaving force protection provided by the RAF Regiment; the medics; and the helicopter crews that provide essential mobility, to name but a few.
See a selection of the winning images in the photo gallery at Related News.
Chief of the Air Staff, Air Chief Marshal Sir Stephen Dalton, presented the winners with their awards. He said:
The competition entries this year are once again of the highest quality and showcase not only the professional abilities of our Royal Air Force photographers but also the tremendous diversity and adaptability of our people and equipment.
These dynamic images reflect the extensive breadth of Service life and the critical contribution that our personnel are making to global operations, in particular our support to operations in both Libya and Afghanistan.
Royal Air Force Warrant Officer Mick Gladwin, who is responsible for the Photographic Trade Group, said:
Royal Air Force photographers have superb technical ability and take great pride in their work.
As reflected in the entries this year, they strive to achieve the highest standards in areas as diverse as aerial reconnaissance, portraiture and video as well as completing tasks in support of the police, post-crash management, engineering, medical and dental branches in their day-to-day duties.
In excess of 900 images were entered in the competition, which made the selection of winners extremely difficult. Judging this year was conducted by Air Commodore (Ret'd) Barry Doggett, Mr Andy Whittle (Retired Warrant Officer Photographer) and Mr Colin Inglis, Commercial Business Manager for Jacobs Digital.
All were unanimous in their appreciation of the very high standard, quality and diversity of work produced by both Service and civilian photographers.
The winners this year are:
Category A - Section Portfolio - Sponsored by Canon UK
1st - RAF Marham
2nd - RAF Cranwell
3rd - RAF Leuchars
Category B - Best Technical/Engineering - Sponsored by Noritsu
1st - Senior Aircraftman Richard Dudley, RAF Marham
2nd - Senior Aircraftman Chris Hill, RAF Marham
3rd - Senior Aircraftman Simon Armstrong, RAF Marham
Highly Commended - Acting Sergeant Rachel Malthouse, RAF Marham
Category C - Best Single Photograph Depicting the RAF Operational Experience - Sponsored by Nikon UK
1st - Senior Aircraftman David Turnbull, Joint Air Delivery Test and Evaluation Unit, RAF Brize Norton
2nd - Corporal Ralph Merry, HQ Air Command, RAF High Wycombe
3rd - Corporal Nik Howe, RAF Marham
Category D - RAF Equipment - Sponsored by Color Confidence
1st - Senior Aircraftman Ben Stevenson, RAF Waddington
2nd - Senior Aircraftman Andrew Masson, RAF Odiham
3rd - Sergeant Simon Butcher, RAF Honington
Highly Commended - Senior Aircraftman Ben Stevenson, RAF Waddington
Category E - Best Sports Photograph - Sponsored by the RAF Sports Board
1st - Senior Aircraftman Neil Chapman, Mobile News Team, HQ Air Command
2nd - Senior Aircraftman Adam Fletcher, RAF Wittering
3rd - Corporal Kryselle Lees, RAF Marham
Category F - Best Portrait - Sponsored by Ede & Ravenscroft
1st - Mr Matt Reid, RAF Cranwell
2nd - Corporal Kryselle Lees, RAF Marham
3rd - Senior Aircraftman Andy Seaward, RAF Coningsby
Highly Commended - Miss Katie Parrott, RAF Halton
Category G - RAF Photographer of the Year - Sponsored by Calumet
1st - Senior Aircraftman Matthew Baker, RAF Leuchars
2nd - Mr Matt Reid, RAF Cranwell
3rd - Senior Aircraftman Mark Dixon, RAF Valley
Category H - The Mallet Student Category - Sponsored by Fuji UK
Winner: Senior Aircraftman Richard Dudley, RAF Marham
Category I - Open Video Category - Sponsored by Impact Image
1st - Senior Aircraftman Neil Chapman, Mobile News Team, HQ Air Command
2nd - Senior Aircraftman Gareth Little, Mobile News Team, HQ Air Command
3rd - Corporal Tim Hammond, Defence Media Operations Centre, RAF Halton
Category J - The Amateur Military Category - Sponsored by Jessops
1st - Senior Aircraftman Tim Laurence Maycock, 93 Expeditionary Armament Squadron, RAF Marham
2nd - Flying Officer Owen Cheverton, 47 Squadron Intelligence Cell, RAF Brize Norton
3rd - Flight Lieutenant Vik Singh Taak, 4F (Ilford) Squadron, Air Training Corps
Highly Commended - Flight Lieutenant Andrew Johnston, E Flight, 202 Squadron, Defence School of Transport, Leconfield
Category K - The Air Training Corps and Combined Cadet Force Category - Sponsored by Veritek
1st - Cadet Vicky Payne, 1018 (Downham Market) Squadron, Air Training Corps
2nd - Cadet Corporal Whitfield, 308 Squadron, Colchester Air Training Corps
3rd - Cadet Vicky Payne, 1018 (Downham Market) Squadron, Air Training Corps
The RAF Public Relations Image of the Year
Winner: Sergeant Pete Mobbs, RAF Coningsby, for 'If The Glove Fits'
Published 11 October 2011