Improving urgent medical care: apply now for innovation funding
Organisations can apply for funding of up to £100,000 to develop new ways of reducing pressure on urgent and emergency healthcare services.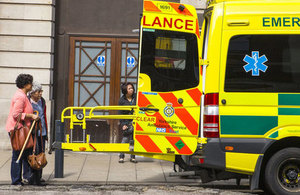 NHS England is funding a competition to help improve patients' lives and NHS efficiency. Around £100,000 will be available for ideas that will reduce the pressure on urgent and emergency care services.
Almost 22 million people visited an accident and emergency department in the last year. Over the last 10 years, the number of visits has risen by more than 30%. More than two-thirds of hospital bed days are A&E admissions. This is increasing pressure on emergency care services.
Any type of company can apply
This competition invites organisations to develop products that will help patients, clinicians and managers improve emergency care. Companies from all sectors can apply. Organisations working in non-health fields are especially encouraged.
Innovate UK will run this competition through SBRI Healthcare, the Small Business Research Initiative for Healthcare. We will offer businesses with the most promising solution a government contract to test and prove their innovation.
Competition information
this competition is open now
we expect projects to range in value up to £100,000
the application deadline is noon on 17 November 2015
there will be a briefing event for applicants in Manchester today and in Bristol on 21 October
Published 13 October 2015