Improving UK-Gabon relations
Foreign Secretary William Hague and Deputy Prime Minister Nick Clegg met President Bongo Ondimba of Gabon on 22 March.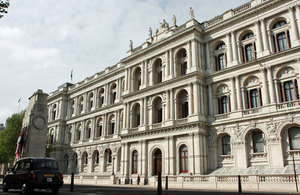 They discussed improving UK/Gabon relations, particularly through increased commercial links between the two countries. They also spoke about UK/Gabon's continued co-operation on UN Security Council matters including the recent adoption of Resolution 1973 on Libya and the current situation in Cote d'Ivoire.
After the meeting, the Foreign Secretary gave a speech on the situation in Africa to the Times Summit for African Business Opportunities. President Bongo Ondimba will also be speaking at the event.
Published 22 March 2011