News story
Improving new build homes to cut energy bills
Communities Minister Don Foster has committed to improving energy efficiency levels in new homes that will save up to £100 per year in bills.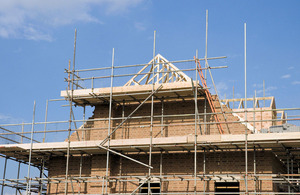 He pledged to work with industry to "close the gap" between the energy standards new homes are designed to and the way they are actually built.
A programme of work between the government, manufacturing and construction industry will look at where some new build homes are failing to match up to expectations, from building materials to construction practices. This work will include a programme of testing homes' energy efficiency and a set of recommendations for improvement.
New build homes in England are some of the best quality in the world, with existing high standards on energy efficiency. Today's deal will help to ensure materials, products and building performance even more closely match design standards.
Speaking at the 'Eco-build' green building conference today Don Foster said:
"Home energy bills are one of the biggest costs that people and families face, especially during a really cold winter such as this one. I want to do everything to cut bills by making homes in this country the most energy efficient possible. From today government and industry will be working hand in hand to ensure new build homes live up to expectations, and drive energy bills down for householders.
"The alternative would be further regulation of industry but I do not want to add red tape and financial burdens that would just be passed on to already struggling homebuyers. Instead I want to work with industry to improve standards and performance in practice."
Today's deal will be overseen by the Zero Carbon Hub, which brings together industry including the Home Builders Federation, Construction Products Association and the National House-Building Council. It will run from 2013 to 2020, with the first set of recommendations for improvement due next year. The government will be providing £380,000 with a further £1 million of cash and in-kind support from industry.
Tackling climate change
Tackling the gap between design standards and actual construction will also help to guarantee savings in carbon dioxide emissions.
Don Foster said:
"Buildings already account for almost half the UK's carbon emissions and with a growing population it's clear we need to build more homes for families and would be first-time buyers in particular. The way in which we do this, and the standards we build new homes to, are crucial to cutting emissions and tackling climate change."
Owners of existing - as opposed to new build - homes also benefit from government incentives to improve their home's energy efficiency and cut bills through the Green Deal.
Published 6 March 2013