News story
Improving councils' powers to tackle unauthorised development
Lifting the restrictions on the use of Temporary Stop Notices.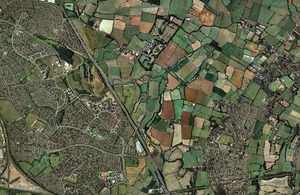 Communities Secretary Eric Pickles today (29 March 2013) pledged to "stop caravans in their tracks" with changes to 'stop notices', backed up by potentially unlimited fines for those who ignore planning rules.
Mr Pickles announced he will revoke regulations that currently limit the use of Temporary Stop Notices in relation to caravans used as main residences.
This change will give councils more freedom to take action when necessary, ensuring fair play in planning, including over a Bank Holiday weekend - when unauthorised development is at its most common.
Stronger powers
Currently, councils are constrained as to when they can action these powers against caravans that are used as main residences, while a small minority continue to seek to abuse the planning system.
Ministers are clear that intentional unauthorised development undermines confidence in the planning system rather than ensuring fair play, and so will cut bureaucracy to avoid this happening.
Today's measures will see the rules and protections applied fairly to all so that the rights of travellers continue to be protected - in addition to the rights of the settled community.
Mr Pickles said:
"Drawn-out cases like Dale Farm threatened to bring the legal system into disrepute: I'm determined that we do all we can to avoid situations like that in future.
"In breach of planning law, travellers move in over a bank holiday weekend and it can take years for councils to remove them. Such episodes give the whole travelling community a bad name and fuel community tensions.
"But these new powers will stop those caravans in their tracks. By making these changes, we will stand squarely behind those who play by the rules and use the full force of the law against those who break them."
Further information
Restrictions will be lifted on the use of Temporary Stop Notices, enabling councils to act immediately and safeguard their local area from the emergence of unauthorised sites. In exercising these powers, councils will need to continue to have due regard to their responsibilities under equalities and human rights legislation.
Published 29 March 2013