Press release
Improvement work continues on A1/A47 Wansford
Work to ease congestion on the A47 as part of a scheme to improve one of the busiest junctions in the East of England, is continuing.
This news article was withdrawn on
This document is no longer current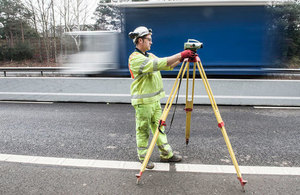 Main construction work at the A1/A47 Wansford interchange, which included the roundabout being modified to increase its capacity, the eastbound A47 either side of the roundabout being widened to two lanes and traffic signals installed at the junction to help ensure smooth traffic flow, is finished.
Now, further changes are due to be made to the new traffic light system from next week to help relieve queuing on the westbound A47.
Work will start on Tuesday 26 May to switch the traffic signals on the eastern roundabout from full-time to part-time during the morning peak period only. The signal system will also be reconfigured to allow the A1 southbound exit and the A47 westbound to be on green at the same time when the signals are on.
Highways England Project Manager Martin Oliver said:
We have been working hard to find a solution to the A47 westbound queuing on the approach to the new A1/A47 Wansford roundabout. We now plan to switch the signals from full time to part time during morning peak times as a result of our monitoring of traffic flows since the traffic lights were installed on 24 April and of concerns expressed by road users.

We have already started work on reprogramming the traffic light system and, starting next week, we will make the necessary changes to the system, including installing additional signs and equipment, before switching the signals to run part-time.

We would like to apologise for any delays motorists have experienced and thank them for their patience while we continue to improve traffic flows at this location.
The work, which will include installing additional detection equipment, reconfiguring the signal controller, and adding additional road markings and signs, should be completed by the end of the week. It will take place during the day outside of the peak periods, and will be carried out offline with no impact to road users.
Earlier this year the A1/A47 Wansford interchange scheme, which carries over 60,000 vehicles per day, saw the A47 widened and new traffic signals installed at the eastern roundabout to help improve traffic flow and safety for road users.
The £600,000 scheme was part of the Government's £317million pinch point programme, which aims to boost local economies by reducing congestion and delays at key locations on the country's major roads.
The work is dependent on suitable weather conditions and dates may be subject to change.
General enquiries
Members of the public should contact the Highways England customer contact centre on 0300 123 5000.
Media enquiries
Journalists should contact the Highways England press office on 0844 693 1448 and use the menu to speak to the most appropriate press officer.
Published 21 May 2015