Press release
Improved vaccine uptake for children, pregnant women and older people
The first monthly flu vaccination figures for at risk groups are now available.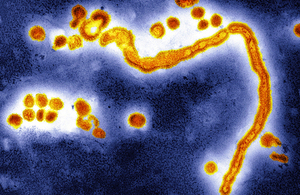 Flu vaccination uptake rates for older people, pregnant women, and children are at encouraging levels compared to the same point last year, according to the first monthly GP patient data for the 2015 to 2016 flu season.
Despite the encouraging figures, flu experts at Public Health England (PHE) stress there is no room for complacency, urging people who are eligible for the free vaccine, particularly those under 65 years with an underlying health condition, to take it up before the virus starts to circulate more widely, to help them stay well this winter.
PHE data, based on 7,059 GP practices (91% of all GP practices in England) shows vaccine uptake rates of:
31.8% in all pregnant women (up from 30% in 2014 to 2015)
58.1% in 65+ year olds (up from 57.1% in 2014 to 2015)
17.8% in all 2 year old children (up from 17.3% in 2014 to 2015)
18.7% in all 3 year old children (steady on 18.7% from 2014 to 2015)
15.4% in all 4 year old children (up from 14.15% in 2014 to 2015)
There is still room for improvement for people under age 65 with a long term health condition, with uptake at 32.8% this year, compared to 34.9% the previous year.
A range of surveillance indicators are used to measure flu activity in the UK. At the moment these remain low across the UK, suggesting there is presently no evidence of community transmission of influenza.
Dr. Richard Pebody, head of flu surveillance for PHE said:
It is great to see so many people taking steps to protect themselves already this flu season, but there is no room for complacency where flu is concerned and it's important everyone in the targeted groups takes up the vaccination. It remains the best way for those at highest risk of the severe effects of the virus to protect themselves and others from flu this winter.

It's not too late for people in 'at risk' groups to get the vaccine for free. This includes people with health conditions, even those that are well managed, such as asthma, diabetes, heart, lung, liver or renal diseases, those with weakened immune systems, as well as older people and pregnant women. Anyone in these groups who hasn't yet had the vaccine should contact their GP, pharmacist or midwife.
This year, the NHS Stay Well this Winter campaign is advising the public on how to avoid common illness during winter. The simple steps are to:
make sure you get the flu jab if eligible
keep yourself warm - heat your home to least 18 degrees C (or 65F) if you can
get help from your pharmacist quickly, if you start to feel unwell, even if it's just a cough or a cold, before it gets more serious
make sure you get your prescription medicines before pharmacies close on Christmas Eve
always take your prescribed medicines as directed
Background information
The Seasonal flu vaccine uptake in GP patients: 1 September 2015 to 31 October 2015 report was published at 2pm on 26 November 2015.
Public Health England exists to protect and improve the nation's health and wellbeing, and reduce health inequalities. It does this through advocacy, partnerships, world-class science, knowledge and intelligence, and the delivery of specialist public health services. PHE is an operationally autonomous executive agency of the Department of Health. Follow us on Twitter @PHE_uk and Facebook.
PHE Press Office, infections
61 Colindale Avenue
London
NW9 5EQ
Published 26 November 2015