Press release
Improved specialist employment scheme will double number of disabled people supported into work
Nearly 1,000 more disabled people a year will benefit from specialist employment support thanks to a new scheme announced today (24 March 2015).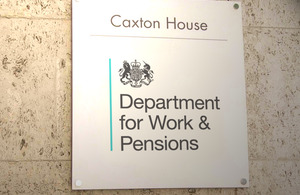 The Specialist Employability Support (SES) programme will ensure 1,700 disabled people across the country receive work-related support annually. It is expected to help 1,250 disabled people into jobs over the course of an initial 2 year contract.
It builds on the foundations of the Residential Training College (RTC) model and includes most of the existing 9 institutions that currently deliver provision for only 800 students and mainly offer on-site courses. SES will more than double the number of disabled people helped and will offer more choice and more convenient support.
The announcement comes after recent statistics revealed a year-on-year increase of 141,000 disabled people in work – the equivalent of nearly 400 more for every day of the year.
Minister for Disabled People, Mark Harper said:
While the improvement in the disability employment rate is fantastic news, there is of course more we need to do to support disabled people into work.

That is why we are bringing in this new programme, opening up more places for disabled people – as well as more choice in how they access support.

Through this approach we will continue to break down the barriers for disabled people in work, so they can provide themselves with the security of a regular wage.
SES will target those people who need the most support to enter work or undertake work-related courses and activities. It will offer specialist support to people with disabilities across the UK, using outreach and partnership working to ensure that coverage is nationwide.
The scheme will also forge better links with Work Choice and Work Programme providers as well as specialist voluntary organisations in order to offer a better service.
The new provision will go live on 1 September 2015.
More information about Specialist Employability Support
SES will be provided through 6 separate contracts which were announced today. Each provider will offer national coverage in order to give service users as much choice as possible.
People will be given the choice of 2 types of support:
the SES will consist of intensive, end-to-end provision, supporting candidates all the way to employment
SES Start Back will cater for people whose needs can be met by other provision, but who first need a little extra support to prepare them
All 6 providers will offer both options.
The majority of the current Residential Training Colleges were involved in successful tenders to continue to provide support under the new provision.
The successful bidders are outlined below:
Pan-disability (for people with all disabilities)
Shaw Trust
Remploy
Kennedy Scott
Steps to Employment (St Loyes, Enham and Portland Colleges)
Visual impairment
Royal National College for the Blind
Hearing impairment
Information about disabled people in employment
The number of disabled people in employment is now over 3.1 million.
The employment rate for disabled people is 45.6% compared to 79.4% for those not classified as Equality Act core disabled and/or work limiting disabled (excluding those who did not state their health situation).
Contact Press Office
Media enquiries for this press release: 020 3267 5141
Press Office
Caxton House
Tothill Street
London
SW1H 9NA
London Press Office (national media and London area enquiries only – not questions about personal claims) 020 3267 5144
Out-of-hours (journalists only) 07623 928 975
England and Wales (local media enquiries) 029 20 586 then 097 or 098 or 099
Scotland (local media enquiries) 0131 310 1122
Follow DWP on:
Published 24 March 2015