Improved electronic visa waiver scheme to make UK travel easier from Qatar
A new version of the electronic visa waiver scheme (EVW II) will go live on Monday 23 May 2016.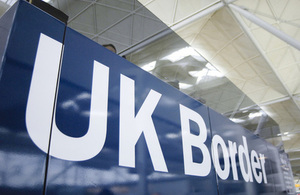 A new version of the electronic visa waiver scheme (EVW II) will go live on Monday 23 May 2016, making travel to the UK for business and tourism even easier for Qatari passport holders.
In early 2014, the UK introduced the EVW scheme, allowing passport holders from Qatar to travel to the UK for a visit of up to six months by filling in an online form at least 48 hours before departure. Tens of thousands of travellers have since benefitted from the scheme, which removed the need to give biometrics, attend a visa application centre or hand in passports in advance of travel.
Unlike the first version of EVW, which relied on passengers entering their personal information exactly as it appears on their passport, the new EVW form asks passengers to upload a copy of their passport biographic data page so that details can be checked for accuracy prior to travel. This means that input errors can be picked up, significantly reducing the risk of issues when boarding or entering the UK. Passengers will still need to apply online for an EVW at least 48 hours in advance, providing specific travel details.
EVW II also features a, simpler set of questions in both English and Arabic, making it easier for users in Qatar.
To cover the costs of developing and running the new system, an administrative fee of £15 is being introduced, which is significantly lower than the cost of a UK visit visa.
British Ambassador Ajay Sharma said:
I am delighted that we have been able to take on board feedback from Qatari travellers to the UK and launch this improved version of the electronic visa waiver system. The new system will significantly reduce the number of problems faced by travellers, and the UK looks forward to welcoming an ever increasing number of our Qatari friends to the UK.
Immigration Minister James Brokenshire said:
Since the introduction of the scheme in 2014, tens of thousands of travellers from Qatar have benefited from using an electronic visa waiver to come to the UK, which reflects the importance of our relationship with the region.
The new EVW is quicker and easier to complete, while remaining secure.
We know that visitor numbers from Qatar are continuing to rise, and we look forward to welcoming more travellers to the UK for business and tourism.
Travellers who visit the UK regularly, or whose plans are likely to change at the last minute may wish to apply for visit visas. The UK offers a range of multi-entry visas, valid for six months, two years, five years or ten years. Anyone wishing to travel to the UK for more than six months, for example to study, settle or work, must still apply for a visa.
The UK offers a range of additional services, which allow visitors to obtain their visas more quickly, to keep their passport while they apply, or to receive assistance with the application process.
Further details on the EVW, are available here.
Notes to editors
The new electronic visa waiver will cost £15 from 23 May
Electronic visa waivers are valid for a single entry to the UK. Passengers must obtain a new EVW each time they travel.
Qataris can still apply for multiple entry visit visas. Visas fees are available here
Published 22 May 2016