Press release
Improved benefit test for migrants launched
A new test for migrants who want to claim income-related benefits is being rolled out to Jobcentres across England, Scotland and Wales.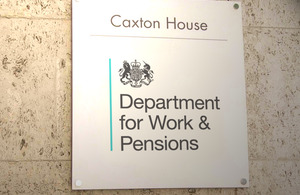 As part of the government's long-term economic plan, a new, stronger, more robust test for migrants who want to claim income-related benefits is being rolled out to Jobcentres across England, Scotland and Wales this week.
This will make sure that only migrants who have a legal right to be in the UK, and plan to contribute to this country, can make a claim for benefits. It is a further step in the government's ambition to fix the immigration and welfare system so Britain's economy delivers for people who work hard and play by the rules.
In order to pass the improved Habitual Residence Test, migrants will have to answer more individually-tailored questions, provide more detailed answers and submit more evidence before they will be allowed to make a claim. For the first time, migrants will be quizzed about what efforts they have made to find work before coming to the UK and whether their English language skills will be a barrier to them finding employment.
Secretary of State for Work and Pensions Iain Duncan Smith said:
It is vitally important that we have strict rules in place to protect the integrity of our benefits system.

The British public are rightly concerned that migrants should contribute to this country, and not be drawn here by the attractiveness of our benefits system. And we are taking action to ensure that that is the case.

The roll-out of the new Habitual Residence Test is the first in a series of measures to ensure that we have a fair system: one which provides support for genuine workers and jobseekers, but does not allow people to come to our country and take advantage. It is a crucial part of our long-term plan to secure Britain's economy.
Migrants are only entitled to claim benefits if they can prove both that they are legally allowed to be here, and that they have sufficient ties to this country to show they are 'habitually resident'.
The improved test will see the bank of available questions increase by more than 100, while the intelligent IT system will ensure that the number and type of questions asked are tailored to each individual claimant and their personal circumstances.
Migrants wanting to claim benefits will have to provide more comprehensive evidence at the point of their claim. This might include what measures they have taken to establish themselves in the UK by looking at their housing and family situation or by looking at what ties they still have abroad. They will also have to provide more evidence that they are doing everything they can to find a job.
The improved Habitual Residence Test is part of a range of reforms around migrant access to benefits. Other changes which will come in over the next year include:
time-limiting new JSA claims made by European Economic Area (EEA) jobseekers and retained workers to 6 months unless they can demonstrate they are actively seeking work and have a genuine prospect of work
ensuring that EEA jobseekers will be unable to access Jobseeker's Allowance until they have been resident in the UK for 3 months
ensuring that new EEA jobseekers will be unable to access Housing Benefit
introducing an earnings threshold to trigger a test which will check that someone isn't claiming to have, or have had, a job, or be self employed to access benefits
More information
The new Habitual Residence Test will apply to any migrant (including British nationals returning from a period living or working abroad) who has a face-to-face interview at the new claim stage at Jobcentre Plus.
The Habitual Residence Test was originally introduced in 1994 to protect the benefit system from abuse. The aim was to ensure that income-related benefits are paid to people with reasonably close ties to the UK and an intention to settle here.
The test was significantly tightened in May 2004 to include a 'right to reside' requirement, based on conditions set out in the European Directives which set out the right of residence.
A person has a 'right to reside' if, for example, they are looking for work, are self-employed, a jobseeker, a student or have sufficient resources for themselves and their family members not to become a burden on the social assistance system.
The right to reside element of the test ensures that economically inactive migrants aren't entitled to benefits.
The improved Habitual Residence Test is in line with EU law.
Statistics published in August 2013 show that as of February 2013, over 5.6 million people were claiming DWP working age benefits. Of these 397,000 (7.0%) are estimated to have been non-UK nationals when they first registered for a National Insurance number. This is an increase of more than 100,000 since 2008 (when the figure was 288,720).
Contact Press Office
Media enquiries for this press release – 0203 267 5161
Press Office
Caxton House
Tothill Street
London
SW1H 9NA
London Press Office (national media and London area enquiries only – not questions about personal claims) 020 3267 5144
Out-of-hours (journalists only) 076 59 108 883
England and Wales (local media enquiries) 029 20 586 then 097 or 098 or 099
Scotland (local media enquiries) 0131 310 1122
Follow DWP on:
Published 13 December 2013