Important notice for British passport holders
The British Consulate General is changing the way we handle passport applications.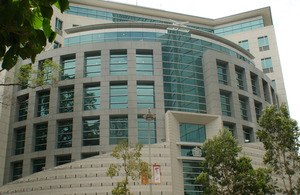 With effect from 1 March 2013 we will only accept passport applications by post. Applications for new passports must be sent to:
British Consulate General
RPPC – 5th Floor
1 Supreme Court Road
Admiralty
Hong Kong

We recommend that applications are sent by secure means such as registered post or by courier.
The Regional Passport Processing Centre (RPPC) in Hong Kong is the only RPPC which still accepts passport applications from members of the public over the counter. Closure of the public counter is part of a global initiative to stream-line passport services, reduce administration costs and enhance the quality and consistency of our service to passport customers.
Most passport applications received from Hong Kong residents are already being received by post or courier, and the closure of the counters will not affect the time taken to process these applications.
We continue to aim to process a straightforward passport renewal within four weeks from the date the fee is taken. Applicants can help us meet that target by ensuring their application contains all the information we need.
British nationals are reminded that many countries require passports to have at least six months validity. However, passports can be renewed up to nine months before they expire and any unused validity of up to nine months will be added to the new passport. Complete information about how to apply for a passport can be found on our website.
Published 7 January 2013