News story
Immigration minister inspects operations at Essex port
The work of Border Force to protect the UK from smugglers came under the scrutiny of Mark Harper during a visit to the Port of Tilbury.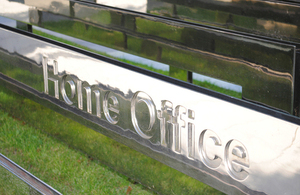 Mr Harper, who took up his role in September, was taken on a tour of the port by Border Force officers and saw a container being given an X-Ray scan and then subjected to a physical search.
Smugglers
He said: 'With approximately 635,000 containers passing through Tilbury each year our dedicated officers face a huge challenge and can never afford to be off their guard. The tremendous results that they achieve are evidence of the first class job they are doing.
'Border Force plays an important role in supporting economic growth and protecting legitimate businesses by disrupting the smuggling of counterfeit items and taxable goods like cigarettes and alcohol - an illegal trade which cheats UK Taxpayers and undercuts honest businesses. Since the start of December, Border Force officers at Tilbury have already seized more than 4 million cigarettes which were destined for the black market.'
Among the seizures made at Tilbury this year are:
Last week, Border Force officers seized approximately 2.8m cigarettes and 900kg of hand rolling tobacco that had been shipped from Cyprus in a container described as carrying Styrofoam. Had the smugglers succeeded they would have cost the UK nearly £900,000 in unpaid VAT and excise duty.
In May, Border Force officers seized approximately 2.5 tonnes of cannabis - worth between £6m and £7m. The drugs had been concealed inside a container of callaloo and ackee that had been shipped from Jamaica. When officers searched the container they found boxes holding thousands of 500gm tins. While the majority of the tins held the fruit or vegetable as listed, around 40 per cent had cannabis inside.
In January, Border Force officers seized approximately 1.7 tonnes of herbal cannabis - worth an estimated £4.8m - that had been shipped from Cuba, via Jamaica and Rotterdam. The drugs were concealed inside a container carrying a cargo of molasses.
Published 11 December 2012