World news story
Immersive VR experience showcases creative connections between the UK and Montréal
The interactive digital sculpture is a gift from the UK to the City of Montréal to honour the city's 375th Anniversary.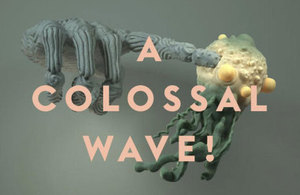 The piece, entitled A Colossal Wave, celebrates the creativity, innovation and vitality of the city and its links with the UK, and encourages visitors to experience urban space differently. A Colossal Wave will be presented in the Quartier des spectacles Montréal as part of KM³ , the city's newest outdoor temporary public art event, as well as at the Phi Centre, as part of the exhibition Lucid Realities.
The interactive sculpture is collaboratively developed and produced through a creative residency led by London-based design studio and collective Marshmallow Laser Feast to honor the creativity, innovation and vitality of Montreal's digital sector. Marshmallow Laser Feast is developing A Colossal Wave with leading artists and creative technologists from Montreal and the UK, including [DPT.](http://dpt.co/ (Montreal), Presstube (Montreal), and [Headspace Studio](http://headspacestudio.com/ (Montreal). A Colossal Wave will journey to the city of Hull in the UK in December as part of the British Council's partnership with Hull UK City of Culture 2017.
"A Colossal Wave is an immersive and intimate VR experience which will encourage people to see Montreal's vibrant and innovative urban spaces in a new light and highlight the city's contribution to the digital era," said Mariya Afzal, Country Director of British Council Canada. "Our collaborative philosophy has been supported by the GREAT Britain Campaign, and the work we do together helps build greater connections between Canada and the UK."
"It's a pleasure for the United Kingdom to celebrate Montreal's 375th anniversary. At this landmark celebration, we wanted to showcase the creativity of Montreal and the UK whilst looking to the future. The first edition of KM³ will be an amazing event and the addition of this interactive sculpture will demonstrate our enduring partnership," said Nick Baker, British Consul General in Montreal.
"The City of Montreal is honored to receive this gift from the United Kingdom," said Denis Coderre, Mayor of Montreal. "We believe this interactive sculpture will bring together locals and visitors, alike, in the spirit of cooperation and connection that reflects our longstanding history with the United Kingdom."
"We are incredibly excited to host this collaborative work, which has brought together several talented artists from the UK and Quebec," said Pierre Fortin, Executive Director, Quartier des Spectacles Montreal. "This innovative digital sculpture will enrich our event and delight Montreal audiences. That's exciting for everyone involved."
A Colossal Wave is co-commissioned by the British Council, in partnership with Partenariat du Quartier des spectacles and Hull UK City of Culture 2017, with additional support from the GREAT Britain campaign, Canadian High Commission, Phi Centre & the BFI Vision Awards.
Media enquiries, British Consulate-General Montreal
Ingrid Ravary
2000 McGill College Avenue, Suite 1940
Montreal Quebec H3A 3H3
Canada
Published 31 August 2017